ShineOn demonstrates dimmable LED light engine with integrated driver
Jun 18th, 2013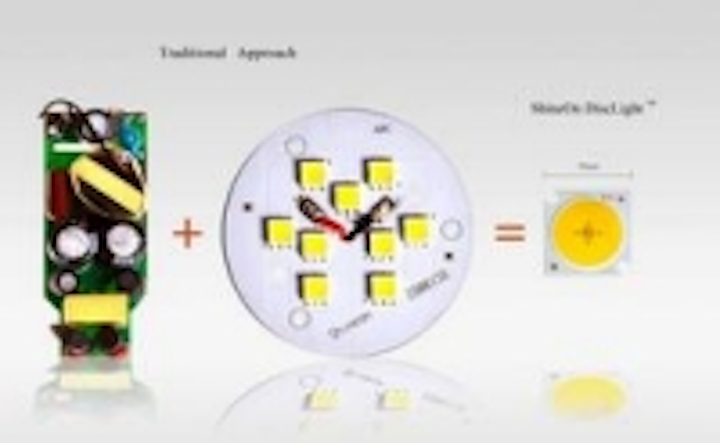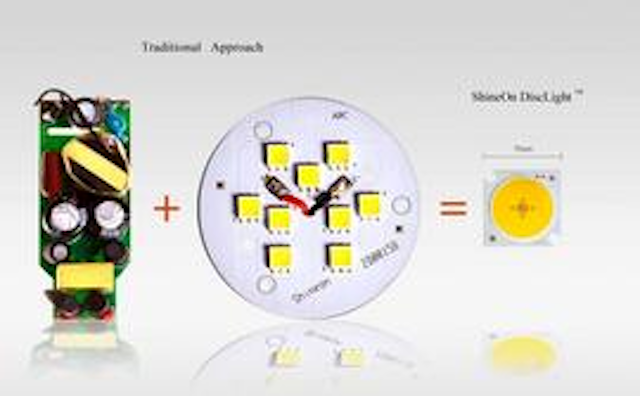 Date Announced: 18 Jun 2013
Launches World's First Fully-Integrated Dimmable LED Light Engine Without External Electronic Components
BEIJING, China, ShineOn Holding Inc., a global LED lighting solution provider, announced the successful demonstration of its DiscLight™ LED Light Engine, the world's first fully-integrated LED light engine without any external electronic components, at the Guangzhou International Lighting Exposition on June 9-12, 2014.
ShineOn's DiscLight™ LED Light Engine integrates a high voltage CMOS based driver IC with multi LED chip arrays on a single substrate. Leveraging its innovative control algorithm design and special IC configuration, this integrated module is capable of connecting to either 110V or a 220V AC power line directly, and can drive the LED array without requiring any additional electronic components such as voltage transformers, inductors and electrolyte capacitors.
Compared to 2-board solutions and solutions with discrete electronic components, ShineOn's elimination of such external components significantly improves the reliability as well as reducing the physical size of the module by more than 70 percent. These factors make ShineOn's DiscLight™ an excellent choice for indoor lighting applications ranging from 3-20W, such as candle lights, MR Light or PAR Lights.
"The LED lighting industry is at a critical stage in its evolution, and poised for accelerated growth," said Dr. Frank Fan, President of ShineOn. "Similar to the IT industry of the past 30 years, new innovations -- from chip, package, module, to system and software -- are supporting the advancement of this industry. ShineOn's successful demonstration of DiscLight™ is an important step for us to establish a leadership position, and we will continue to bring together the expertise of U.S. design innovations and Chinese manufacturing to provide advanced, ground-breaking module solutions for the global lighting industry."
DiscLight™ features include:
* high reliability and a high power factor of 0.99
* Compact physical size at 19mm x 19mm x 2mm
* high total lumens efficiency (including driver and LED) of >90lm/W at warm white with >80 CRI
* linearly dimmable device that is compatible with majority of existing dimmer circuits
* lower total system BOM cost
DiscLight™ modules, providing lumen output up to 1000lm at 2700K and CRI >80, will be available for customer sampling this summer with a complete demo kit, and are expected to be in mass production by the end of 2013.
About ShineOn
ShineOn is a global LED lighting solution provider specializing in the development and production of high brightness and ultra-high brightness LED devices. A technology company with both US and China background, ShineOn is dedicated to providing innovative, energy saving and environmentally friendly LED lighting products for various applications, including general illumination and LCD backlighting. It is funded by major venture capital firms such as GSR Ventures, Northern Light Venture Capital, IDG and Mayfield Fund. For more information about ShineOn, visit our website at www.ShineOn-led.com.
Contact
Mr. Jason Yin ShineOn Holding, Inc. jasonyin@ShineOn.cn
E-mail:jasonyin@ShineOn.cn
Web Site:www.ShineOn-led.com