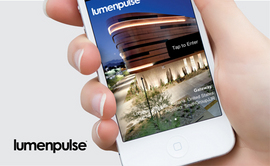 Date Announced: 21 Jun 2013
Montreal, QC – Lumenpulse, a leading innovator and manufacturer of high-performance, architectural LED-based lighting solutions for commercial, institutional, and urban environments, has released a new application for the iPhone and iPad.
The app lets users access all the content and documentation of the Lumenpulse website, with some additional features. After initial download, users can view Lumenpulse products and case studies, and consult technical information without an Internet connection. The app also lets users locate Lumenpulse projects worldwide using Maps. The Photo feature of the app allows users to take a picture of a new project and share it.
"Our goal is to make it easier for architects, lighting designers, contractors and engineers to find exactly what they're looking for, whether it's inspiration for a lighting project or a great product," says Jesse Lilley, Lumenpulse's vice president of marketing. "We wanted all of our web content and documentation to be appealing, informative, and most importantly, accessible. Since users don't have to be online to use the apps, our content is now accessible to anyone, at any time."
The app is available for download from the Apple App Store. The application must be downloaded completely to ensure that all content and documentation is installed. Users are prompted to update occasionally when new content is added. An Internet connection is required to install and refresh the app.
Download it here: https://itunes.apple.com/app/lumenpulse/id627550977?ign-mpt=uo%3D5
About Lumenpulse Inc.
Founded in 2006, Lumenpulse develops and manufactures high performance, sustainable architectural LED-based fixtures and solutions for commercial, institutional and urban environments. Lumenpulse is a leader in the LED lighting market and has earned many awards for its indoor and outdoor applications, including several Product Innovation Awards (PIA), four Next Generation Luminaires Design awards, a Red Dot Design Award and a Lightfair Innovation Award. It was also recognized as one of Profit Hot 50's Top New Growth Companies. Lumenpulse has offices worldwide with corporate headquarters in Montreal, Canada, US headquarters and Global Technology Development Center in Boston, Massachusetts, and EMEA headquarters in London, UK.
For more information on Lumenpulse, visit: www.lumenpulse.com
Contact
Olivia Collette, Lumenpulse Phone: 1-877-937-3003 x. 337
E-mail:ocollette@lumenpulse.com
Web Site:https://itunes.apple.com/app/lumenpulse/id627550977?ign-mpt=uo%3D5