Blueboo 17W and 30W LED downlights are installed in Guatemala McDonald's
Jun 6th, 2013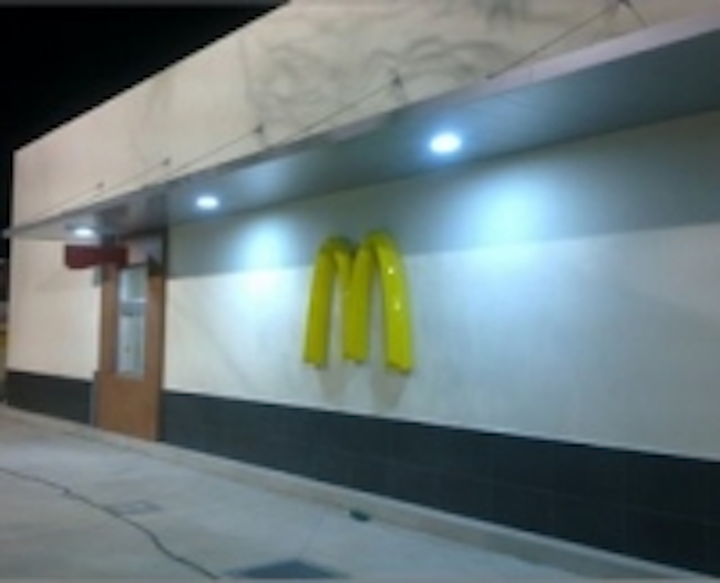 Date Announced: 06 Jun 2013
BLUEBOO LED downlights with 17w and 30w are successfully installed in McDonald's Restaurant, Guatemala City, Guatemala at the end of July, 2012. As shown in the pictures, all the McDonald's Restaurants in Guatemala City are installed BLUEBOO LED downlights, which look beautiful, prosperous and enchanting under the bright light. LED downlights that BLUEBOO Lighting manufacturer produces have the advantages of high brightness, energy conservation, convenient installation, free maintenance, green environmental protection, long life and high efficiency, etc.
BLUEBOO adopts original CREE lamp beads to design these LED downlights with 17w and 30w in this new lighting project, which are high quality products with reliable quality. All the lighting products produced by BLUEBOO are positioned in high-end quality and moderate price. Product design refers to the most strict industry standards, focusing on safety and high reliability.
As a new and high technology enterprise, BLUEBOO concentrates on technical innovation, product innovation and management innovation to further strengthen the core competitiveness. BLUEBOO pays much attention to the research and development of science and technology such as intelligent temperature control technology, dimmable technology, infrared sensor technology and quality heat dissipation design.
Contact
Contact Tel:+86-755-8278 5863 / 8278 3505 / 8278 3483 Fax:+86-755-2590 6136 sales@blueboo.cn sales.jp@blueboolighting.com
E-mail:sales@blueboolighting.com
Web Site:www.blueboolighting.com