OLED light element using Ticona liquid crystal polymer receives MID Industry Award
Jun 26th, 2013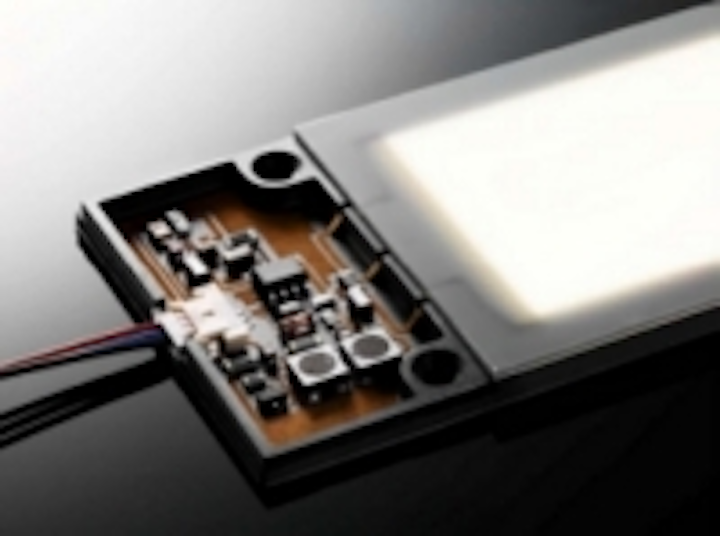 Date Announced: 26 Jun 2013
Award-winning innovative OLED light source
Component made from Vectra® LCP receives industry award of the Research Association 3D-MID e.V.
Florence, Ky., Sulzbach, Germany, Shanghai, PR China – Ticona, the engineering polymers business of Celanese Corporation, supplied a specialized liquid crystal polymer (LCP), Vectra® E840i LDS, used in an innovative OLED light element that received the MID-Industry Award 2013.
The molded interconnect device (MID) module for organic light-emitting diode (OLED) lighting, submitted by 2E mechatronic GmbH & Co. KG and OSRAM Opto Semiconductors GmbH, was awarded the prize this April at the SMT/Hybrid/Packaging trade fair in Nuremberg, Germany. First presented in 1997, the bi-annual MID Industry Award from the Research Association 3-D MID e.V. recognizes trend-setting, innovative products with molded interconnect devices.
The OLED module represents an aesthetic, ready-to-connect solution that maintains its slim design, thanks to a very flat casing that was developed by completely integrating the electronics via Laser Direct Structuring (LDS). The assembly delivers a glare-free, uniform area of light and opens up new opportunities in the design of ultra-flat lighting systems.
LDS process makes flat trend design possible
The manufacture of 3-D circuits in MID technology requires the use of metallized high-performance polymers. This is one of the most important application areas for Vectra LCP from Ticona. The Vectra LCP LDS grades enable the construction of complex components with extremely fine conductor structures. Vectra E840i LDS is:
- 40 percent mineral and LDS-additive filled
- Reflow solderable
- More isotropic than other LCP grades
In the LDS process, the laser activates the additives at precisely the areas in which the conductor tracks are intended to run. The substrate is then selectively metallized.
"This creates a 3-D molded interconnect device that fulfills the maximum requirements in design and function," said Dr. Tilo Vaahs, Ticona global marketing director - Consumer. "We congratulate the innovative companies, 2E mechatronic and OSRAM Opto Semiconductors, on their outstanding application of Vectra E840i LDS in a MID module for OLED lighting elements."
Cost-efficient small-scale use
The primary advantage of the LDS process is its high level of flexibility. Sensors, microphone modules, ring contacts and many other electronic components can be produced faster and more cost-efficiently. Also, since it is small-scale, changes in the conductor tracks are easy to implement simply by reprogramming the laser.
Experienced partner
2E mechatronic is a leading manufacturer of MID components. In addition to the 2013-honored OLED module, the company received the 2011 MID Innovation Prize for its 3-D MID flow sensor for air conditioning systems and developed a laser-structured MID LED light for dental labs, both of which are made from Vectra 840i LDS. The company also sees applications for MID LEDs in vending machines, as well as in home and street lighting.
With more than 15 years of experience in MID technology, Ticona developed Vectra 840i LDS and other Vectra LCP solutions for processing with 3-D MID and LDS technologies.
Photo: Winner of the MID Industry Award 2013 — The MID OLED from 2E mechatronic and OSRAM Opto Semiconductors (Source: OSRAM Opto Semiconductors)
About Celanese and Ticona
Celanese Corporation is a global technology leader in the production of differentiated chemistry solutions and specialty materials used in most major industries and consumer applications. With sales almost equally divided between North America, Europe and Asia, the company uses the full breadth of its global chemistry, technology and business expertise to create value for customers and the corporation. Celanese partners with customers to solve their most critical needs while making a positive impact on its communities and the world. Based in Dallas, Texas, Celanese employs approximately 7,600 employees worldwide and had 2012 net sales of $6.4 billion. For more information about Celanese Corporation and its product offerings, visit www.celanese.com or our blog at www.celaneseblog.com
Ticona, the engineering polymers business of Celanese Corporation, is part of the Advanced Engineered Materials segment with net sales of $1,261 million in fiscal 2012. It produces and markets a broad range of high performance products, and employs more than 1,500 individuals at production, compounding and research facilities in the USA, Germany, Brazil and China. For more information, please visit www.ticona.com or www.ticona.cn (Chinese language).
About 2E mechatronics
2E mechatronic GmbH & Co. KG is a medium-sized company that is active in the automotive branch, industrial electrical systems, medical technology and automation and belongs to one of the leading providers in the field of MID technology. 2E mechatronic was founded on October 1st, 2002 and is an independent member of the Narr group Kirchheim/Teck since that time. With about 50 employees, 2E achieves an annual turnover of around 8 million euro.
About OSRAM Opto Semiconductors
OSRAM, with its headquarters in Munich, is one of the two leading lighting manufacturers in the world. Its subsidiary, OSRAM Opto Semiconductors GmbH in Regensburg (Germany), offers its customers solutions based on semiconductor technology for lighting, sensor and visualization applications. OSRAM Opto Semiconductors has production sites in Regensburg (Germany) and Penang (Malaysia). Its headquarters for North America is in Sunnyvale (USA). Its headquarters for the Asia region is in Hong Kong. OSRAM Opto Semiconductors also has sales offices throughout the world. For more information, go to www.osram-os.com.
Vectra® is a registered trademark owned by Ticona or its affiliates.
Contact
Stephen Cushard, global marketing communications manager 859-372-3164
E-mail:stephen.cushard@ticona.com
Web Site:www.ticona.com