DELO Industrial Adhesives releases LED curing area and spot lamps
Jun 5th, 2013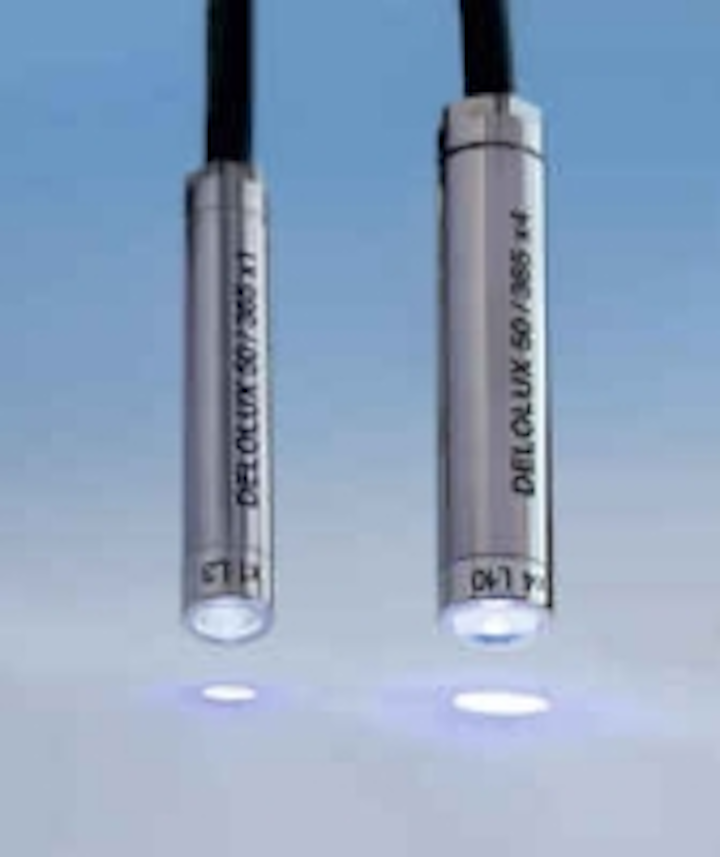 Date Announced: 05 Jun 2013
Boston – DELO Industrial Adhesives expands its lamp range by two new LED curing lamps: The new rectangular DELOLUX 202 / 400 area lamp and the new DELOLUX 50 x4 spot lamp.
DELOLUX 202 / 400: Double irradiation line for even faster processes
The new DELOLUX 202 / 400 LED curing lamp is based on the proven DELOLUX 20 / 400 but offers a longer irradiation line. The innovative optical system of DELOLUX 202 / 400 generates an extremely even irradiation area with intensities of more than 200 mW/cm
2
. This is a key precondition for process-reliable adhesive curing.
"Customer orientation is our number one priority when we develop new LED curing lamps," says Christian Walther, director of sales Germany at DELO. "Our new DELOLUX 202 / 400 takes into account the variety of our customers' applications. Now we can supply an area lamp with an irradiation line, which is twice as long as that of the existing DELOLUX 20 lamp. This is particularly beneficial for customers who operate compact production lines."
Providing a light exit area with a width of 48.1 mm, DELOLUX 202 / 400 is particularly suitable for bonding small components in linear production systems. Ideal applications include mini loudspeaker bonding or manufacture of small switches. The double length of the light exit area allows reliable adhesive curing even at elevated belt speeds. The lamp heads can be arrayed seamlessly in both x- and y-direction permitting a broad variety of irradiation geometries.
DELOLUX 50 x4: Even larger spot diameters and increased intensities with 4 LEDs
With the new DELOLUX 50 x4 spot lamp, DELO Industrial Adhesives has incorporated four LEDs into a lamp head whose 15 mm diameter is only slightly larger than that of the existing DELOLUX 50 x1. The irradiated area of the DELOLOX 50 x4 is significantly larger and the intensity is even higher compared to existing lamp heads. The LEDs are supplied with power through a special, flexible "Powerguide." The customer can connect up to four Powerguides to the base unit, allowing them to build up flexible irradiation stations. Powerguides with lengths up to 10 m provide additional flexibility, for example when bonding hard-to-reach areas. DELOLUX 50 x4 can be used wherever fast curing of small areas is important, for example lens bonding or fixing of ferrites in magnet coils. The new DELOLUX 50 x4 curing lamp is offered with two primary lenses, which can be screwed to the specific lamp head. Two spot diameters, 5 mm and 10 mm, are available.
"DELOLUX 50 x4 enables our customers to achieve short cycle times in production systems with high expectations for process reliability. Thanks to even light emission with simultaneously high intensity, this spot lamp cures DELO adhesives in a highly reliable manner," says Christian Walther.
About DELO
DELO is a world-leading manufacturer of industrial adhesives with headquarters in Windach, near Munich, Germany. In business for over 50 years, the company has developed tailor-made special adhesives and application technologies for industries from electronics and photovoltaics to chip cards, automotive supply, glass and plastics. Owner-operated with over 350 employees, DELO had sales revenue exceeding US$66 million in fiscal 2012/13. About 15 percent of revenues go to research and development, much higher than the industry average. Innovative products developed within the last three years account for 30 percent of current sales revenue. Customers include Bosch, Daimler, Festo, Infineon, Knowles and Siemens. DELO has overseas subsidiaries as well as a network of worldwide distributors and sales partners. The company's US subsidiary, DELO Industrial Adhesives LLC, was founded in 2008 and is based in Sudbury, MA, near Boston. DELO considers its entrepreneurial investment in America as an essential strategic keystone for the future development of DELO as a whole.
Contact
DELO Industrial Adhesives 978-254-5275
E-mail:press@delo.de
Web Site:www.delo-adhesives.com/us/