Fraen Corporation's bubble lens optics are compatible with a number of common LEDs
Jun 20th, 2013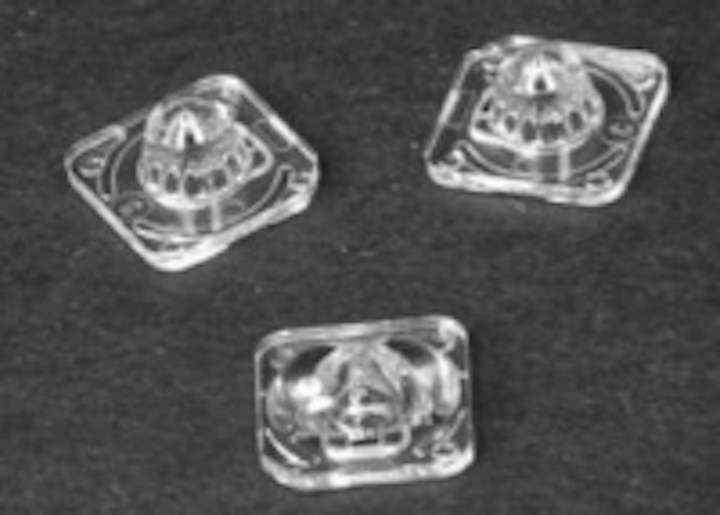 Date Announced: 20 Jun 2013
READING, MA – Fraen Corporation's Optics Division announced today the release of their new line of FMT bubble lens optics. Available in wide, flood and elliptical (IESNA type I) light distributions, the FMT series was developed for a wide range of applications including tunnel lighting; pedestrian scaled road and pathway illumination; fluorescent tube replacement; high bay lighting; and underground and multi-level parking deck illumination. The FMT series is compatible with a number of LEDs including Cree XTE, XPE, XPE2, XPG, XPG2; Philips Lumileds LUXEON R, Rebel, Rebel ES; Seoul Z5P, Z5M; Osram Oslon SSL 150 and Oslon Square; Samsung 3535 and many other LEDS.
The small 10mm x 10mm footprint of the FMT promotes greater design flexibility, allowing the use of large numbers of tightly spaced LEDs. All lenses in the FMT series share common mechanical and attachment features, allowing the designer to 'mix and match' different beam angles to create custom lighting patterns.
Delivered in tape & reel packaging, the FMT lens is ideally suited for automated manufacturing utilizing Pick & Place assembly machinery. Mechanical features on the FMT lens flange are designed to provide proper alignment with the LED and to aid in attachment of the lens to the PCB.
About Fraen Corporation
Fraen Optics, a Division of Fraen Corporation, specializes in the design, development and manufacture of optics for high-powered LEDs. Fraen offers a wide range of standardproducts for all major LED manufacturers as well as custom-optic design services. Fraen Corporation's divisions include its Custom Manufacturing Division, which specializes in lighted-plastic parts and complex stampings; and Fraen Machining Corporation, which manufactures precision-turned metal components.
Product Information
To order parts or to request samples of Fraen's new FMT technology, please contact Fraen Optics at 781-858-6108 or by email at optics@fraen.com.
Full supporting documentation (datasheets, photometric files, mechanical CAD files, REACH/RoHS certification) is available on our website (www.fraenomg.com) or by contacting Fraen Optics at Applications@fraen.com.
Contact
Fraen Optics 781-858-6108
E-mail:optics@fraen.com
Web Site:www.fraenomg.com