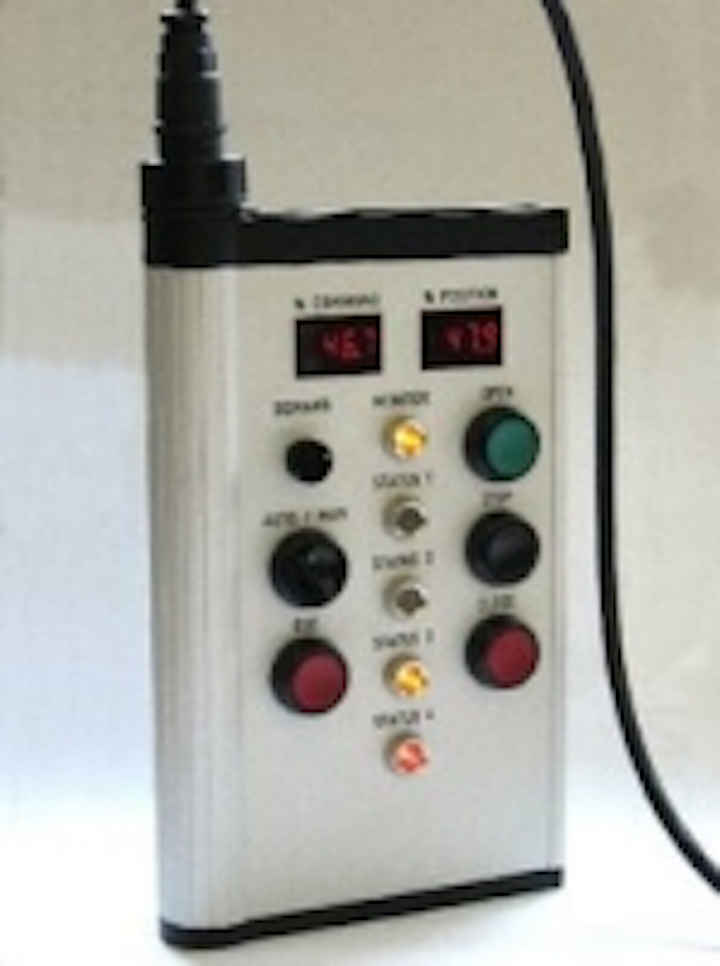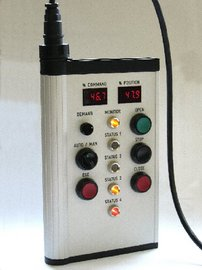 Date Announced: 10 Jun 2013
Ulverston, UK, 10 June 2013. A quest for a very professional appearance allied with compact size led Instrument Installations Ltd to specify Marl 512 Series LEDs in its handheld actuator demonstration product range for use during client visit and training room demonstrations of Rotork actuators.
Appearance is increasingly as important in industrial instrumentation as it is in consumer electronics – especially during the critical sales phase, according to Chris Hill, Managing Director of Instrument Installations. He said, "The unit is intended to professionally demonstrate the key features of the actuators in formal client presentations in the field and at the training facility. It not only had to look great, but also has to be very easy and intuitive for the sales force to use, ensuring a really slick demonstration. Being a handheld unit, we only had limited space available. We specified the Marl 512 Series LED as it fitted the bill in terms of both size and appearance."
He continued, "We sought LED technology as the unit is powered by the actuator – and the Marl LEDs draw a very low current from the 24V supply. The fact that the product is designed and manufactured by a quality UK company was also a substantial benefit."
Each unit features five Marl 512 Series LEDs, in yellow, green and red. Marl 512 Series panel mount LEDs feature a robust bright nickel plated brass housing, which gave Instrument Installations the aesthetic appearance they sought and are just 27mm deep behind the panel, a sufficiently low profile for the handheld mobile actuator demonstration units. Other features of the 12.7mm diameter 512 Series LEDs include IP67 protection, resistance to vibration and a smoked lens. An internal reverse protection diode is fitted as standard. Marl also offers the LEDs in white and blue.
Technical information about the units and their other applications can be found on
Instrument Installations Ltd website: www.iionline.co.uk; Email sales@iionline.co.uk
About Instrument Installations Ltd
Instrument Installations Ltd has been designing and developing products for the process control and signage industries for 25 Years as well as providing OEM manufacturing services. All of its design and manufacturing is carried out in house in the UK which means a fast turnaround. The company can supply products from single control panels to 1,000's of electronic assemblies, and uses many innovative technological solutions to meet customer needs.
For more information, please contact:
Instrument Installations Ltd, The Old Library, Field Side, Thorne, South Yorks, DN8 4BQ, UK. Tel: +44 (0)1405 854588
Email: sales@iionline.co.uk; Website: www.iionline.co.uk
About Marl International:
Marl International has specialised in the design and manufacture of visible LED indication and illumination components and systems for nearly 40 years. As UK distributor for Citizen, Lighting Science, Bivar and a hub of a pro-actively managed international supply chains, Marl has unique access to some of the best Solid State Lighting and Electronics technology in the world. It integrates these technologies into energy efficient lighting and indication solutions. Marl International has world class design and manufacturing facilities, staffed by over 100 highly trained and experienced specialists operating from a single site on a dedicated technology park in Ulverston, England. As a unified team, they offer agility, speed, flexibility, and willingness to respond to both needs and expectations as projects evolve and mature through the entire product life cycle. Marl partners with leaders in Defence, Aerospace, Entertainment, Transportation, and Lighting industries in the UK, Europe, North America, and Asia.
Marl is a quality company. It is registered to BS EN ISO 9001:2008 standard and fully RoHS and WEEE compliant.
For more information, please contact:
Marl International Limited, Marl Business Park, Ulverston, Cumbria, LA12 9BN, UK. Tel: +44 (0)1229 582430; Fax: +44 (0)1229 585155
Email: marketing@marl.co.uk; Website: www.leds.co.uk
Contact
Press Contact: Peter van der Sluijs Neesham Public Relations Tel: +44 (0) 1296 628180 Email: peterv@neesham.co.uk
E-mail:Email: peterv@neesham.co.uk
Web Site:www.neeesham.co.uk