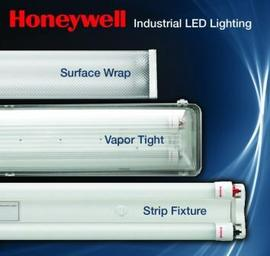 Date Announced: 25 Jun 2013
New energy lighting business complements Honeywell's building controls, automation products: LEDs use up to 50% less energy, last more than 40% longer; integration, retrofit
opportunity through multi-channel strategy
MINNEAPOLIS – Honeywell (NYSE: HON) announced that a newly formed business – LED Lighting Solutions – will offer a new line of high-efficiency industrial LED lighting fixtures in North America, expanding Honeywell's portfolio of energy efficiency products and solutions, and offering customers a significant new source of energy and operational savings. Lighting comprises 26% of energy consumption in commercial buildings and 11% in industrial facilities, and commercial-industrial buildings combined consume approximately 72% of all electricity, making lighting an important source of potential energy efficiency savings. LED lights consume up to 50% less energy and last more than 40% longer than traditional lighting sources, reducing maintenance costs in addition to the energy savings.
LED Lighting Solutions for North America is part of Honeywell's global offering of lighting products, and expands Honeywell's leading portfolio of building management systems, energy management tools and thermostat and other technologies that help businesses and industry make their environments more comfortable and energy efficient. Honeywell's new line of LED lights starts with three versions suitable for the most common
commercial-industrial applications, such as stairwells, parking garages, manufacturing floors, cold storage facilities, and warehouses. Later this year Honeywell will expand the line with the release of LED retrofit, ceiling panel and high-bay luminaire models, plus a full line of lighting control devices, including sensors and switches to enable lighting controls to be integrated with other building management systems.
"LED lights are greener, have a lower total cost of ownership and last longer," said Beth Wozniak, president of Honeywell Environmental and Combustion Controls (ECC). "But what really unlocks their value is adding Honeywell's unparalleled expertise in integrating building management systems – lighting, lighting controls, heating-ventilation-air-conditioning – to make buildings smarter and give building owners more control over their total energy consumption and costs."
"Our new LED Lighting Solutions business broadens Honeywell's energy efficiency portfolio and offers a strong retrofit opportunity with building owners looking to maximize efficiency and operational savings," Wozniak added. "No one understands buildings and energy better than Honeywell."
Honeywell LED lights are already available in Europe as well as Asia-Pacific through Honeywell Lonon, a joint venture created in 2008 between Honeywell and Guangdong Lonon. Retail giant Walmart has chosen Honeywell's LED lighting technology to retrofit more than 80 of its stores in China, enabling each store to reduce electricity costs by half. Honeywell is the leading global provider of automation solutions to help manage comfort and security. ECC provides connected products that help keep 150 million homes, 10 million commercial buildings and a multitude of industrial facilities comfortable and energy efficient. ECC customers include original equipment manufacturers, commercial customers, homeowners, contractors, retail, building managers, consulting engineers and distributors.
Honeywell International (www.honeywell.com) is a Fortune 100 diversified technology and manufacturing leader, serving customers worldwide with aerospace products and services; control technologies for buildings, homes and industry; automotive products; turbochargers; and specialty materials. Based in Morris Township, N.J., Honeywell's shares are traded on the New York, London, and Chicago Stock Exchanges. For more news and information on Honeywell, please visit www.honeywellnow.com. Honeywell Building Solutions is part of the Honeywell Automation and Control Solutions business group, a global leader in providing product and service solutions that improve efficiency and profitability, support regulatory compliance, and maintain safe, comfortable environments in homes, buildings and industry.
Contact
Suzy Abbott, marketing & communications manager, Honeywell Lighting Solutions 800-334-3666
E-mail:suzy.abbott@honeywell.com
Web Site:lightingsolutions.honeywell.com