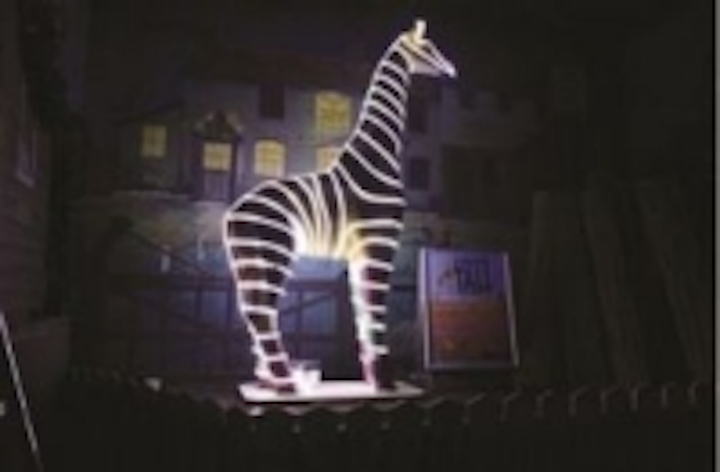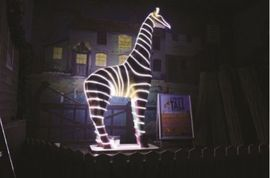 Date Announced: 12 Jun 2013
Project puts MGC Lighting head and shoulders above the rest
International lighting distributor, MGC Lighting, has supplied Impact Waterproof Flexistrip lighting for an unusual project involving 2.5 metre high giraffe sculptures, which are being used to mark the 50th anniversary of Colchester Zoo in Essex.
The giraffes have been positioned in various locations around Colchester, as part of the Stand Tall project, which officially launched on 2 June this year and will run until 26 August. The project is also being used to raise vital funds for the zoo's conservation charity, Action for the Wild.
The large scale public art event has involved a range of businesses in the area that have sponsored the giraffes at a cost of £5,000 each. Each giraffe is then designed by a specially commissioned artist and will bear the name of its sponsor.
MGC Lighting, based approximately 20 miles away in Ipswich, first became involved in the project last year, when the company supplied Flexistrip lighting for 'Stan' - the campaign mascot - which was used in the official Christmas light switch on in Colchester last December.
MGC's International Sales Director, David Jackson, is delighted to have played a role in Stand Tall: "As an international distributor we do a lot of business overseas, which we value highly but there is something particularly special about being involved in a project that is on our doorstep. We supplied Impact Waterproof Flexistrip because it is ideal for outdoor use where moisture needs to be overcome, it also provides the flexibility required of the project and is simple to apply."
MGC offers a comprehensive range of Flexistrip products. The Impact Waterproof Flexistrip has a waterproof rating of IP65 and comes complete with an adhesive backing. Both 12V and 24V DC versions are available, with either 600 LEDs per 5m roll, 300 LEDs per 5m roll (with colour options) or 150 LEDs per 5m roll (RGB colour). The beam angle for all types is 120° and the operating temperature is -40° to 80°.
The Stand Tall project has been developed in partnership with experienced arts, events and education company, Wild in Art - the team behind similar events successfully staged in the UK, Europe and Africa.
At the end of the summer, from 9-12 September, the sculptures will be on show on the banks of the River Thames in Central London, at the award winning, three million sq ft business environment, More London!
On the 19 September each of the commissioned giraffes will be auctioned off, with all funds raised donated to Action for the Wild for future conservation projects. For further details regarding the Stand Tall event, please visit the Colchester Zoo website (www.colchester-zoo.com).
Contact
MGC Lamps Limited +44-(0)-1473-466300
E-mail:uksales@mgc-lighting.com
Web Site:www.mgc-lighting.com