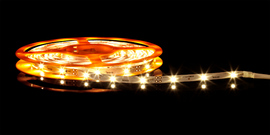 Date Announced: 10 Jun 2013
Niviss has recently extended its product range with flexible LED tapes available in three different versions:
- Standard
- Plus
- Pro
nFlex standard LED strips based on Cree PLCC4 LEDs are a reliable solution recommended for accent illumination in homes, offices, museums, and art galleries. A more advanced solution is nFlex Plus LED tape, which combines Cree PLCC4 LEDs with driver ICs. This combination of devices makes the LED tape more reliable compared to traditional flexible LED tapes and allows them to be connected in series without any brightness drop.
nFlex Pro series top-class products are based on Cree ML-B LEDs. Just as in the Plus family, the LED current is set by a driver IC. Featuring high performance and reliability, both the Plus and Pro series are recommended for professional decorative and accent lighting applications.
Key features of all nFlex products:
- Lower power consumption comparing to competition
- High performance
- Long lifetime (more than 35,000 hr)
- High CRI
- No brightness drop in strings consisting of multiple strips
- CCT range from 2700K to 6000K
- 12V or 24V supply voltage
- Fit into all Niviss nProfiles
- Made in Poland
Niviss also offers customized solutions and can deliver products adjusted to customers' requirements. For more information please visit our Niviss website or contact us via phone or e-mail.
Contact
+48-58-781-33-99
E-mail:info@niviss.com
Web Site:www.niviss.com