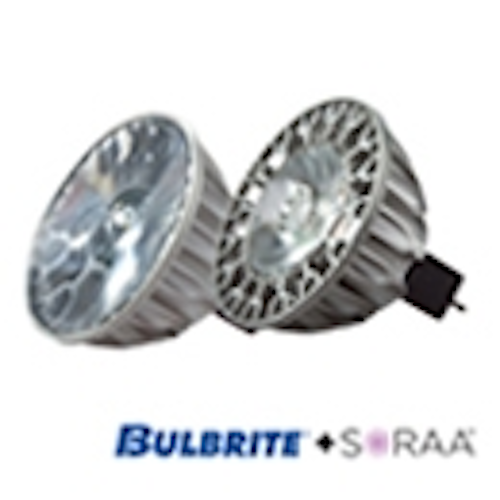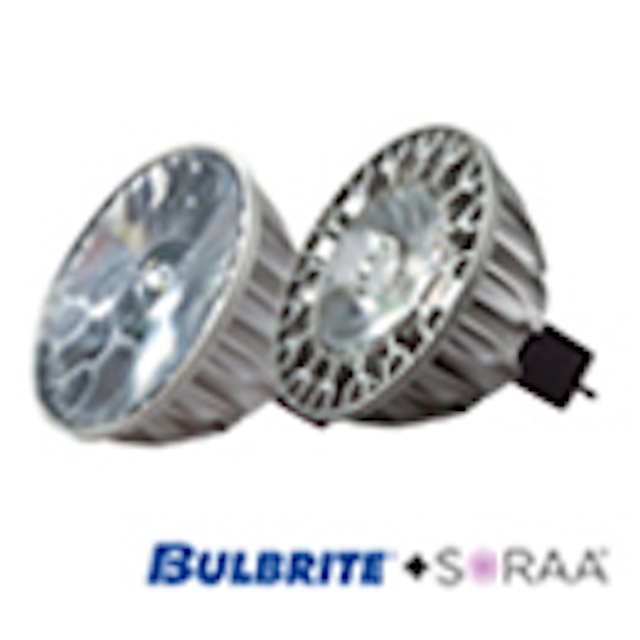 Date Announced: 10 Jun 2013
MOONACHIE, NJ – BULBRITE, a leading manufacturer and supplier of innovative, energy efficient light source solutions and the premier educational resource for lamping technology, announced today that the company has become a master distributor of Soraa's high performance, dimmable MR16 lamps featuring GAN on GAN LED technology. Soraa's award winning LED MR16 lamps will allow customers to make ordinary lighting extraordinarily vibrant, brilliant and efficient—whites will look whiter; colors will be more natural and saturated; and shadows will be crisp and clean.
Soraa's full visible spectrum LED MR16 lamps are not like any other traditional LED lamps on the market. The company's GaN on GaN LED technology emits substantially more light and allows reliable operation at much higher temperatures. This enables a very simple and robust MR16 lamp design that uses a single LED light source and a simple heatsink, while producing 50W halogen equivalent light output and operating reliably at lamp temperatures of up to 120°C, a requirement for use in the most constrained fixtures.
Current products available for order include the SORAA VIVID 9.5, VIVID, OUTDOOR and PREMIUM LED MR16 lamps. Offered in both Warm White (2700K) and Soft White (3000K), these lamps have a lifespan of 25,000 hours, have a high CRI of up to 95, with an R9 up to 95, and are available in a 50W equivalent. All lamps include a spot, narrow flood and flood option.
For additional information, call to speak to an ALA certified lighting professional today at 800.528.5555 or email info@bulbrite.com. For a complete LED product listing and additional resources, visit www.bulbrite.com/LED.
ABOUT BULBRITE
BULBRITE is a leading manufacturer and supplier of innovative, energy-efficient light source solutions. For over 40 years, BULBRITE, a family owned business, has been renowned for its commitment to innovation, education and service. Bulbrite President Cathy Choi received the 2010 Residential Lighting Industry Leadership Award. In addition, the Bulbrite Swytch LED Desk Lamp received the 2010 Home Furnishing News Award of Excellence while several new lamps won ADEX Awards for Design Excellence.
BULBRITE is a proud supporting Committee Member of the American Lighting Association, Silver Sustaining member of the Illuminating Engineering Society of North America (IESNA), a member of Zhaga, an Energy Star Partner, a Member of the International Dark Sky Association, a member of the LUMEN Coalition and a Lighting Facts LED Product Partner.
Contact
Jeremy Ludyjan, Bulbrite Director of Marketing and Product Development jludyjan@bulbrite.com 201-806-7247
E-mail:jludyjan@bulbrite.com
Web Site:www.bulbrite.com/products_en_12_120_495_0_0-SORAA-Dimmable-MR16.php