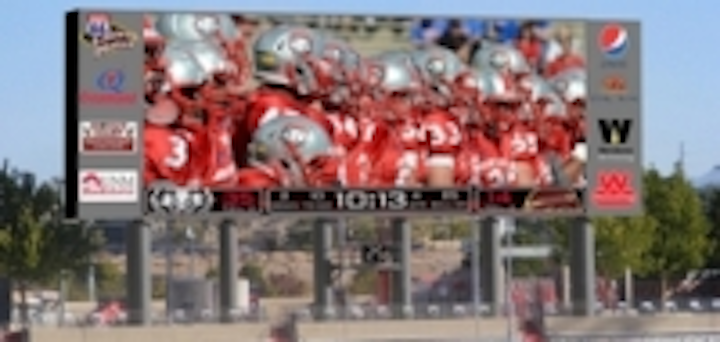 Date Announced: 13 Jun 2013
BROOKINGS, S.D. – June 13, 2013 – When the University of New Mexico (UNM) football team returns to the gridiron at Branch Field at University Stadium in Albuquerque, N.M., this fall, it will be greeted with the largest single LED video display in the Mountain West. The LED video display will be designed and manufactured by Daktronics (Nasdaq – DAKT) of Brookings, S.D., and installed in August of 2013. The new display will measure 32 feet high by 80 feet wide and feature a 15HD pixel layout.
"This LED display is an important and necessary step in pushing Lobo football and our game-day experience in University Stadium to a new level," said Paul Krebs, Vice President for Athletics, UNM. "More improvements are on the way as we hope to announce a major upgrade to our in-venue Wi-Fi capability later this summer. We are committed to enhancing the overall fan experience and strongly encourage Lobo fans to purchase season tickets, attend every home game and turn Branch Field into one of the top home-field advantages in the Mountain West."
The university will use the video display to energize its fans with live video and instant replays. UNM will be able to separate the display into smaller sections to provide up-to-the-minute statistics, scoring information, and other graphics and animations.
The wide angle capability of the display will offer every fan a superb view of all the content shown. It will incorporate excellent image clarity and contrast in the harshest viewing scenarios while also offering multiple levels of protection from the elements.
"The University of New Mexico was looking for a premier LED video display to reward its dedicated fans with an elevated game-day experience, and we worked with its athletic department to fit its needs," said Brady Jacobsen, Daktronics sales representative. "We're excited for the upcoming installation and can't wait to see the display in action this fall."
Daktronics LED video and messaging display technology offers a long lifetime with minimal maintenance and low power consumption, providing value and excitement for years to come.
About Lobo Football and Branch Field at University Stadium
New Mexico is embarking on its second season under coach Bob Davie. The Lobos' 4-9 record during his first season gave the program one more win than it had during the three previous seasons combined. UNM ranked fifth in the country in rushing offense in 2012 with an average of 301.3 yards per game, and running back Kasey Carrier set a school single-season record with 1,469 rushing yards.
University Stadium has been home to Lobo Football – of the Mountain West – since 1960 and boasts a capacity of 39,224. For the 2012 season, the field was stripped of natural grass, FieldTurf was installed and the field was officially named Branch Field in honor of Margaret and Turner Branch. Since 2006, the venue has been home to the New Mexico Bowl, a Division I bowl game. The Lobos have played in two of those seven bowl games.
2013 Lobo football season tickets start at $78 for adults, $48 for youth (ages 2-18) and $204 for a family plan (2A,2Y). Please call (505) 925-LOBO or click on the following link for 2013 Lobo football season ticket information: http://www.golobos.com/tickets/13-football.html.
About Daktronics
Daktronics is recognized as the world's leading provider of full-color LED video displays. Daktronics began manufacturing large screen, full-color, LED video displays in 1997. Since then, thousands of large screen video displays have been sold and installed around the world. Since 2001, independent market research conducted by iSuppli Corp. lists Daktronics as the world's leading provider of large screen LED video displays.
Daktronics has strong leadership positions in, and is the world's largest supplier of, large screen video displays, electronic scoreboards, computer-programmable displays, digital billboards, and control systems. The company excels in the control of large display systems, including those that require integration of multiple complex displays showing real-time information, graphics, animation and video. Daktronics designs, manufactures, markets and services display systems for customers around the world, in sport, business and transportation applications. For more information, visit the company's World Wide Web site at: http://www.daktronics.com, e-mail the company at sales@daktronics.com, call (605) 692-0200 or toll-free (800) 325-8766 in the United States or write to the company at 331 32nd Ave. PO Box 5128 Brookings, S.D. 57006-5128.
Safe Harbor Statement
Cautionary Notice: In addition to statements of historical fact, this news release contains forward-looking statements within the meaning of the Private Securities Litigation Reform Act of 1995 and is intended to enjoy the protection of that Act. These forward-looking statements reflect the Company's expectations or beliefs concerning future events. The Company cautions that these and similar statements involve risk and uncertainties which could cause actual results to differ materially from our expectations, including, but not limited to, changes in economic and market conditions, management of growth, timing and magnitude of future contracts, fluctuations in margins, the introduction of new products and technology, the impact of adverse weather conditions and other risks noted in the Company's SEC filings, including its Annual Report on Form 10-K for its 2012 fiscal year. Forward-looking statements are made in the context of information available as of the date stated. The Company undertakes no obligation to update or revise such statements to reflect new circumstances or unanticipated events as they occur.
Contact
MEDIA RELATIONS: Justin Ochsner Marketing tel (605) 692-0200
E-mail:justin.ochsner@daktronics.com
Web Site:www.daktronics.com