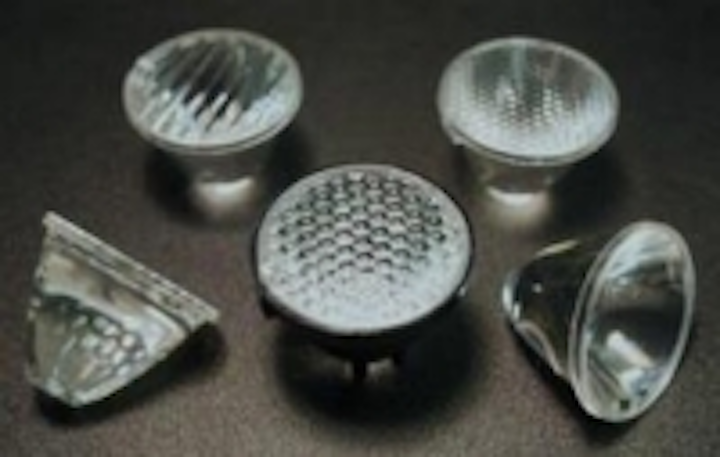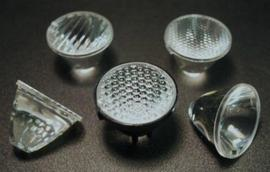 Date Announced: 25 Jun 2013
READING, MA – Fraen Corporation's Optical Manufacturing Group announces the release of their FML series lens. Designed for use with today's high power single die and multi-die (RGB, RGBW, tunable white, arrays of small LEDs) sources, the FML series is suitable for a wide range of technical applications including color mixing, retail lighting, architectural illumination, retrofit lighting, entertainment lighting and portable devices. The FML lens delivers a tight 2:1 ratio between Field Angle (10% intensity) and Beam Angle (50%) intensity, making it ideally suited to demanding lighting applications such as medical luminaires.
The FML lens series features a patent pending LED interface that efficiently collects and pre-mixes the light emitted by multi-chip LEDs (color, tunable white), producing a uniform, well mixed beam with no chip images or color blotching. The FML lens is available in a range of beam profiles ranging from a very tight 6° FWHM to a wide area 50° flood; an intermediate medium and wide, as well as an elliptical beam, are also available. The FML is available as a lens alone or as a lens and holder assembly.
About Fraen Corporation
Fraen Optics, a Division of Fraen Corporation, specializes in the design, development and manufacture of optics for high-powered LEDs. Fraen offers a wide range of standard products for all major LED manufacturers as well as custom-optic development services. Fraen Corporation's divisions include its Custom Manufacturing Division, which specializes in lighted-plastic parts and complex stampings; and Fraen Machining Corporation, which manufactures precision-turned metal components.
Full supporting documentation (datasheets, photometric files, mechanical CAD files, REACH/RoHS certification) is available on our website (www.fraenomg.com) or by contacting Fraen Optics at Applications@fraen.com.
Contact
Fraen Optics 781-858-6108
E-mail:optics@fraen.com
Web Site:www.fraenomg.com