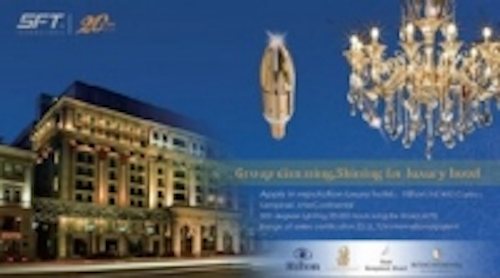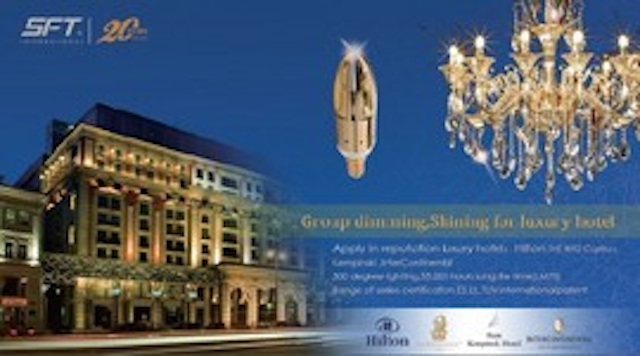 Date Announced: 09 Sep 2013
SFT Lighting, with more than 18 years of professional lighting design and manufacturing experience, just launched the Magnolia series of LED decorative lamps, which are Energy Star & UL/cUL approved retrofit solutions for incandescent decorative lamps. By adopting high performing drivers, SFT candle lights show excellent dimmability, especially in group dimming application. Meanwhile, luxury hotels have chosen SFT candle lights for their replacement projects. The lamp offers naturally warm light with a beautiful sparkling effect, which makes it an ideal decorative LED lamp for chandelier application.
The SFT Magnolia series is ideal for installation in various fixtures where people can easily enjoy the art of light played together with glass. Lamps can perfectly work with crystal chandeliers, wall sconces where lamps are exposed, or modern fixtures with glass shield.
Features & benefits:
1. 300° light distribution. All around illumination.
2. Group dimming with 30~40 lamps depending on dimmer capability. Now even some leading brands cannot have group dimming with more than 7 lamps.
3. Cree inside: Excellent stability of light color temperature by Cree® white LED technology.
4. Long life span, 35,000 hr guarantees no maintenance over 22.8 years if lit 3hrs a day.
These features make it the perfect energy efficient bulb for chandeliers and decorative lighting.
About SFT LED lighting
1.Has full range of LED lighting product lines including Energy Star & DLC Listed
- SFT has Energy Star listed LED candle light (Magnolia series)
- SFT will have DLC listed for LED High bay and LED Troffer light on Sept 2012
- DLC and ETL will be obtained for SFT street lighting on Nov 2012
- Product portfolios cover LED lamp, LED indoor luminaries and LED outdoor luminaries.
2. Be as key OEM supplier with well-known largest lighting company
US$60 million investment in factory, 1000 employees, 18 year lighting history. SFT has experience cooperating with well-known large enterprises throughout the world more than 5 years.
3. Top LED lighting brand
- SFT is well positioned on the triangle of Quality / Cost / Performance.
- SFT was successfully awarded ALL LED lighting products tender from China government financial subsidies project in 2012. SFT is one of the 2 successful enterprises amongst 39 contestants whose submitted product lists are all selected.
- SFT ranked first in LED street light in China for 2011.
4. Domain expert & own international patents
SFT has IP licenses in required technological domain for LED lamps including international patents and more than 300 China design patents.
Contact
Jiangsu SFT Optoelectronic Co.,Ltd +86-25-8319-4011
E-mail:enquiry@sftinternational.com
Web Site:www.sftled.com