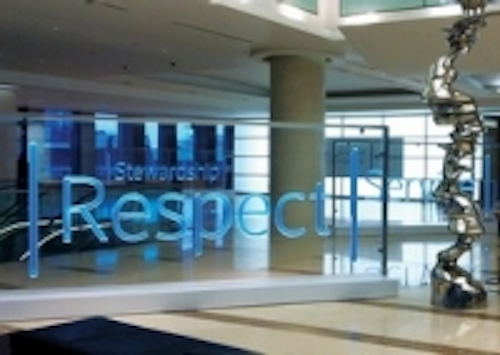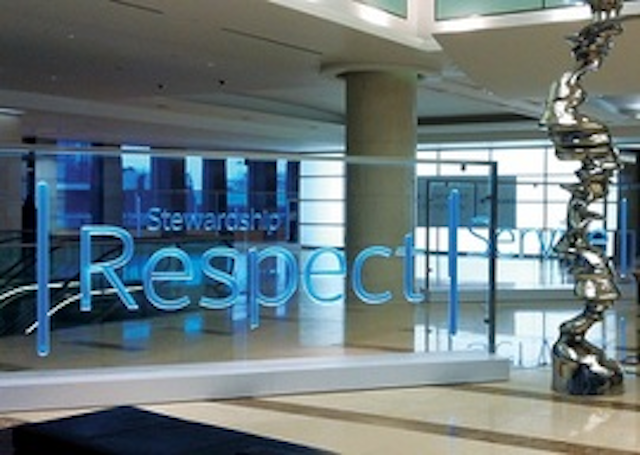 Date Announced: 06 Sep 2013
One of the world's largest high-street banks commissioned several pieces of motivational signage to highlight the company's core values and beliefs. The signs were to be displayed at their brand new HQ in Canary Wharf so the illumination had to be bright and even and the lighting had to be low maintenance to avoid disruption in the busy offices.
The signs were constructed using 12mm clear acrylic and the text was digitally printed onto the panels. The letter perimeters were then routed in to highlight the text. The largest illuminated surface measured 1496 x 2452mm and the signs could only be lit from the base, this meant that the LEDs had to be powerful enough to light all the way to the top of the panel.
Bright Green Technology supplied their innovative Bright Green Beam, a modular LED system for lighting signage, display cases and poster boxes. Bright Green Beam is designed to be mounted on the edge of the application, the lensed LEDs ensured even light diffusion across the entire face of the sign.
The bank was so pleased with the end result that the sign was rolled out, with Bright Green Beam specified, worldwide and is now lighting up office in the US, New York, France, German, Spain, Portugal, India, Singapore, Japan & China.
To find out more about Bright Green Beam visit
www.brightgreentechnology.com/products/bright-green-beam/
Contact
Anna Bancroft, marketing manager Bright Green Technology Limited 01932-355-221
E-mail:info@brightgreentechnology.com
Web Site:www.brightgreentechnology.com