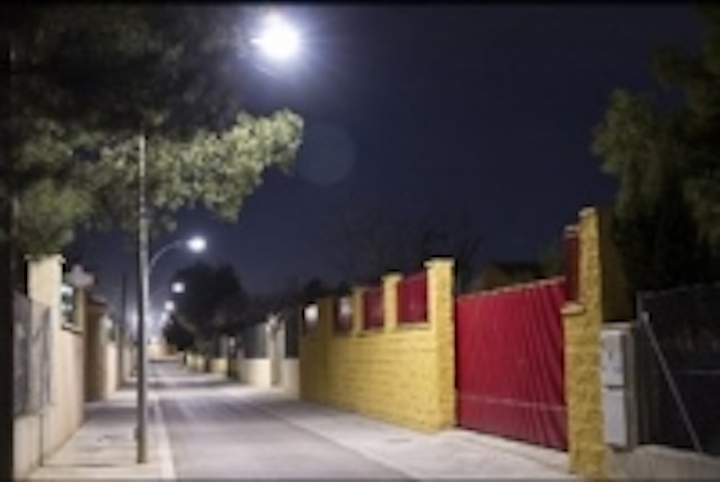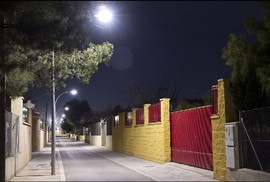 Date Announced: 04 Sep 2013
BLUEBOO LED street lights with E40 28W warm white light are installed in Albacete, Spain. These 28W LED street lights are installed in residential communities at 6.5m high per lamppost and 30m between lampposts at Huerta de Monroy, Albacete.
The project is completed in three phases with 120 street lights in total, which is the first urbanization using LED technology in Albacete, Spain. The project is a successful and significant example of BLUEBOO LED street light installation.
BLUEBOO chose original Cree lamp beads to design and produce LED street lights featuring high brightness, convenient installation, high efficiency, energy conservation, environmental protection, long life, low light attenuation, safety, and no pollution, no harmful elements such as lead and mercury, which meet the demands of public lighting in view of a large number of people in residential communities and public places.
About BLUEBOO
BLUEBOO Lighting has the advantages of intelligent temperature control technology, infrared sensor technology, and quality heat dissipation design. Mature heat dissipation design ensures LED lights perform even in an enclosed environment, improving the lights' quality and extending the lifespan of products. Unique DIY design is popular with customers all over the world.
BLUEBOO LED lighting products are widely used in many fields, such as municipal engineering, indoor lighting, outdoor lighting, solar energy lighting, adjustable lighting, control systems, etc. BLUEBOO regards the needs of customers as the center, making efforts to meet customers' demands, and looks to establish a mutually beneficial long-term relationship with customers.
Contact
sales@blueboo.cn sales.jp@blueboolighting.com
E-mail:sales@blueboolighting.com
Web Site:www.blueboolighting.com