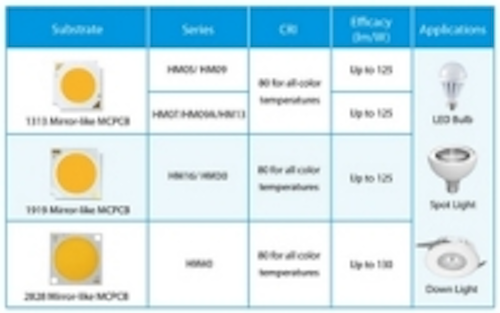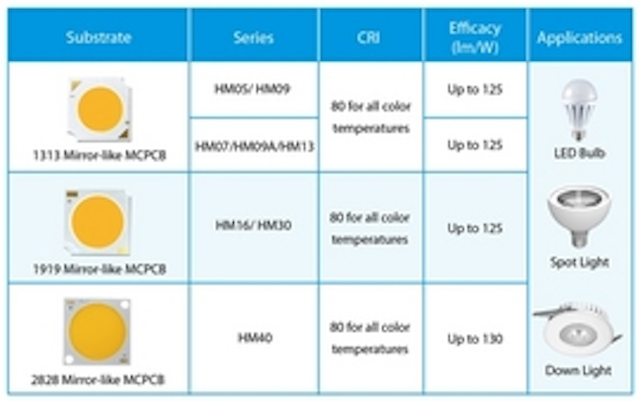 Date Announced: 10 Sep 2013
Edison Opto has successfully introduced a complete product line of EdiPower II HM series, which includes 5W~40W for different applications. Recently, Edison Opto has extended to 40W high-power version (HM40). Using patented phosphor, HM40 improves the thermal stability and reduce the phenomenon of light decay. Furthermore, EdiPower II HM series is based on the mirror-like MCPCB which features excellent reflectivity (up to 98%), so that the luminous efficacy of components can be increased by 10% to 30% and the energy waste can be reduced effectively.
Under 1080mA, HM40 can reach 5190lm in cool white (equivalent to 130lm/W). For PAR lamps applications, Edison Opto has launched 7W/ 9W/ 13W types with patented materials. Under Tc=25°C, the efficacy of 3000K type can reach 115 lm/W. All types of 7W/ 9W/ 13W are suitable for PAR20, PAR30, PAR38 and other spot lights. The CRI of HM series are higher than 80. And all products of this series comply with the criteria of 3-step MacAdam ellipse, EU ERP and Energy Star (R9>0).
As for the light quality, EdiPower II HM series is a surface light source which uses small chips array; as a result, EdiPower II HM series has better light uniformity than point light source. Moreover, with Edison Opto's brilliant optical products, EdiPower II HM series can offer excellent light patterns from narrow to wide beam angles. Being applied in LED engine design and applications, EdiPower II HM series has the features of instant on and long lifetime simultaneously.
Due to the advantage of low thermal resistance, EdiPower II HM series can help luminaire suppliers to reduce the complexity of thermal design. In addition, the structure design of substrate can prevent EdiPower II HM series from sulfuration, so that it can perform a better reliability in product usage. Last but not least, EdiPower II HM series complies with the Restriction of Hazardous Substances (RoHS) Directive, which ensures the environmental friendliness of products. Edison Opto's high performance HM series can be applied in many fields such as LEDs light bulb, down lights, track lights, residential lighting and commercial lighting fixtures.
About Edison Opto
Edison Opto has established the headquarters in New Taipei City, Taiwan since 2001. Edison Opto is specialized in designing and producing High-power LEDs. In order to satisfy customers' high standard requests for quality, Edison Opto established a LM80 approved laboratory which is certified by Underwriters Laboratories (UL). Edison Opto creates the LDMS service program which can provide customized professional design and production services. Edison Opto has established factories in Dongguan and Yangzhou. Besides, in order to expand the service domain, Edison Opto has established subsidiaries in USA and Germany. Edison Opto provides customers with complete product support and prompt delivery services.
More Information about the company and our products can be found at www.edison-opto.com
Contact
Sales Representative Edison Opto Corporation
E-mail:service@edison-opto.com.tw
Web Site:www.edison-opto.com