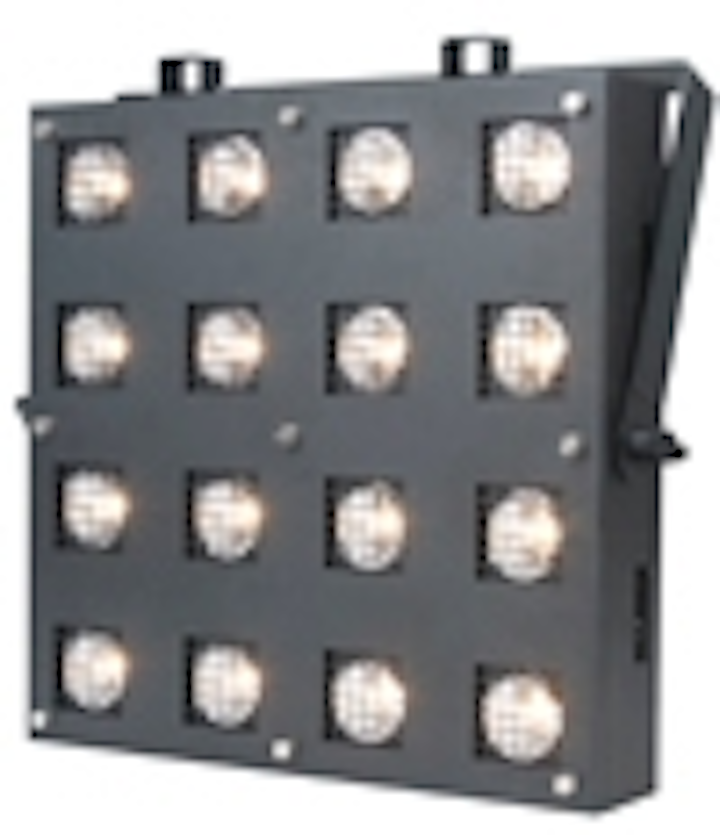 Date Announced: 18 Nov 2013
LAS VEGAS – (For Immediate Release) – Never resting on its laurels, Elation Professional has been continually making R&D advances in some of its most successful lighting products and technologies, most notably the Platinum lamp and LED categories as well as new control solutions. Now the company will be showcasing products built around these innovations at the 2013 LDI Show, held at the Las Vegas Convention Center, November 22-24.
As a leader in the Platinum discharge lamp category, Elation continues to innovate in this field with three new energy-efficient discharge lamp moving head fixtures. The new additions include the Platinum Profile 35 Pro, the company's first "framing shutter" high-power moving head featuring the MSR Platinum 35 lamp from Philips, which runs at 800 watts yet delivers output comparable to 1,200-watt moving head profile MSR fixtures. Another Platinum introduction is the Platinum Wash 16R, a CMY wash/beam moving head, powered by an extremely bright lamp source running at 330 watts that's comparable to 1,000-watt discharge wash fixtures. Third is the Rayzor 2R, the smallest moving head in the lineup, which uses the new Platinum 2R 100W lamp, combining technology from both the successful Platinum and Rayzor Series. This new small, powerful, fast and "Rayzor" sharp beam moving head unit is sure to make a BIG impact at this year's show.
In the LED category, Elation will be unveiling an entire new series that utilizes cutting-edge COB (Chip On Board) LED technology -- the CUEPIX Series. This breakthrough series features blinders, strip lights and LED pars powered by COB LEDs, which have been hailed by the industry for their ability to provide greater output from a smaller illumination source, more even light distribution, better color homogenization and better heat dissipation, compared to surface mount (SMD) LEDs.
Elation is also introducing a revolutionary new multi-chip technology featuring a 6-color LED multi-chip in a single lens solution -- the SixPar IP Series. You have heard of Tri-Color, Quad Color, well we skipped Five and …SIX color is here!
Other new LED-powered products debuting at LDI include the Lumina Strip and Lumina Matrix, an LED strip light and panel respectively, which use warm white LEDs with a perfectly aligned reflector to provide the look of a halogen lamp. Elation will also be displaying a powerful new LED-powered strobe in a cast aluminum IP65 par-style case, the Protron LED Strobe, which can be used as a replacement for conventional par or daylight flood fixtures. Also in the LED category is the Arena Par Zoom featuring 19 x 10W Quad Color RGBW CREE LEDs in a rugged Par 64 case with motorized zoom of 10°-60°. Additionally, the DW Profile and DW Fresnel round out the company's new LED offerings, providing a new variable white high power LED Engine in a Profile and Fresnel housing, while raising the bar for LED performance in traditional theatrical fixture solutions.
Elation has deep roots in affordable yet powerful DMX control solutions, and LDI will be no exception. New product offerings in the control series include the release of the company's Emulation Pro software, EWDMX IP Transceiver and new Art-net to DMX splitters the eNode 8 pro & eNode 4.
Here's a closer look at these exciting new products, which will be on display at Elation's LDI Booth #1015:
Platinum Profile 35 Pro – Powered by the new Platinum 35 MSR lamp from Philips running at 800 watts, this moving head profile fixture features a 4 blade motorized / rotating shutter / framing system that offers full control of the beam shape. The Platinum Profile 35 Pro also includes all standard features required in a high-power profile luminare, including: CMY + Variable CTO, 8°-50° Motorized Zoom / Auto-Focus, Animation effect, 3-facet Prism, Iris, 6 rotating gobos, 3 static gobos, 8 replaceable static colors, variable frost and EWDMX wireless DMX receiver built in.
Platinum Wash 16R Pro – Featuring the new 1,500-hour Platinum 16R lamp from Philips running at 330 watts, 16,000 lumens, this moving head fixture functions as a hybrid beam / wash fixture. It includes pro features such as CMY color mixing, as well as fixed colors, motorized zoom from 6.5°-48°, beam shaper, shutter/dimmer and EWDMX receiver built in. Compact yet powerful, this product makes an excellent partner to larger / brighter moving head spot fixtures, offering a wash that is comparable to units from 1,000 watts in a smaller, more energy efficient design.
Rayzor 2R – A small, fast and precise moving head featuring the Platinum MSD 2R 100W lamp, it offers 10,000 hours of extreme output in an energy efficient package. Ideal for installation or production, this small yet powerful moving head features static colors and gobos as well as rotating prism and shutter / dimmer. Don't let its tiny footprint fool you -- this unit will compete on the biggest stages and is certain to become a multi-function unit in any lighting design toolbox.
CUEPIX Series – This groundbreaking series of blinders and strip lights features cutting-edge COB LED technology, in which multiple LED diodes are directly mounted on and electrically connected to the circuit board as one lighting module. Since there is no conventional device SMT (surface mount technology) packaging as there is with SMD LEDs, interconnection lengths are shortened and thermal resistance is better, resulting in improved performance and reliability. The CUEPIX Series will debut with six models:
* CUEPIX Panel – Matrix Blinder with 25 x 30-watt Tri Color RGB COB LEDs
* CUEPIX Strip WW – Linear Strip with 5 x 30-watt warm white COB LEDs
* CUEPIX Strip Tri – Linear Strip with 5 x 30-watt Tri Color RGB COB LEDs
* CUEPIX Blinder WW2 – Blinder with 2 x 100-watt warm white COB LEDs
* CEUPIX Par 150 and CUEPIX Par 300 – Pars with 4 x 30-watt and 7 x 30-wattW RGB COB LEDs.
SixPar IP Series – Featuring six-in-one 12-watt LEDs -- RGBWA+UV -- this high power LED IP 65-rated par series is available in small (SixPar 100), medium(SixPar 200) and large (SixPar 300) with 7, 12 and 18 x 12-watt LEDs respectively, all in a rugged die-cast par design ideal for permanent or production applications. Featuring IP 65-rated housing and cables, users can power / data link fixtures together for easy installation. The units feature on-board menu control as well as IR remote control option for setting DMX addressing, manual or auto programs remotely.
Lumina Strip and Lumina Matrix – Combining the performance and efficiency of LEDs with the warm look of a halogen lamp, the Lumina Strip LED bar and Lumina Matrix LED panel are ideal for strip and stage lighting applications where an even, smooth wash of light is required or as a direct view blinder with pixel control. The Lumina Strip uses 10 x 7-watt warm white LEDs, and the Lumina Matrix uses 16 x 7-watt warm white LEDs, with both fixtures getting their "halogen look" from their perfectly aligned reflector. Both fixtures also feature DMX or RDM protocol, theatrical grade 0-100% dimming, powercon In/Out, and a multi-voltage 100-240V auto sensing PSU.
Protron LED Strobe – An ultra-powerful LED strobe that utilizes 576 pieces of white 6,500°K LED diodes to emit a massive 28,000 lumens of output, the Protron LED Strobe has its LEDs divided into four "pies," so it can create stunning eye candy chase effects as well. Housed in an IP65-rated die-cast par-style aluminum case, it's ideal for both indoor and outdoor applications and can also be used as a 120° white open-face replacement light for conventional par and daylight floodlight fixtures. Featuring both DMX and RDM control, the Protron LED Strobe is energy efficient (150 watts maximum draw) and has CE and cETLus certification.
Arena Par Zoom – The Arena Par Zoom features 19 x 10W Quad Color RGBW Osram Ostar LEDs and a motorized zoom from 10°-60°. At 220 watts total power, this high-power pro-grade LED par is ideal for the largest stages and, with the added zoom range, it's ideal for a variety of applications.
DW Profile & DW Fresnel – Featuring a 250-watt Dynamic White LED engine capable of mixing white light from 3,200°K to 5,600°K, – this pro-level product series is ideal for both theatrical or broadcast applications.
Emulation PRO - Building on the success of Elation's Emulation software, the new Emulation PRO is a powerful DMX control software that runs on iOS (MAC), Windows or Linux operating system computers. It outputs control using Elation's ART SSC and ART IO solid-state hardware control interfaces capable of running up to 20 DMX universes, and supports external trigger devices like UDP, Art-Net, OSC, RS232 and works with Midi Time Code, Smpte Time Code and DMX-in. Among the new features included in Emulation Pro software are: Pixel Mapper engine, Timeline Editor for shows and pro-user friendly Command Line programming style.
eNode series -- This is a new series of professional grade Art-Net to DMX node boxes, featuring the eNode 8 Pro and eNode-4. With the growth of pixel mapping, and with multiple DMX universes having become a standard practice in lighting systems today, Elation has answered the need for a powerful yet affordable art-net to DMX node solution.
-- The eNode 8 Pro is an 8-universe Ethernet to DMX interface for use with Art-Net compatible DMX control systems. A 9" rack-mount unit, it features two Neutrik Ethercon connectors for input and thru, eight, 5-pin Neutrik data connectors, Powercon, 100-240V, 50/60Hz power input.
-- The eNode 4 is a compact 4-universe Ethernet to DMX interface ideal for hanging in truss or remote areas of installations. For use with ArtNet compatible DMX control systems, it features two Neutrik Ethercon connectors for input and thru, four 5-pin Neutrik data connectors, Powercon, 100-240V, 50/60Hz power input.
The Ethernet connectors support auto MDI/MDIX. Each DMX output can be set to function as single, zero, HTP or LTP modes, broadcast mode, one device transmits while all devices receive the same information It can act as a standard DMX splitter. IP address can be set manually and online software updates.
EWDMX IP Transceiver – and IP65 rated wireless DMX transmitter / receiver is the next generation in powerful wireless DMX control from Elation. Compatible with all previous EWDMX and W-DMX products, this new unit now offers full RDM support and comes in an IP-rated enclosure.
Other exciting new products, most notably in the LED Screen display category, will be revealed during the show as well. Be sure to come by the company's booth and see all the latest new technology innovations by Elation Professional.
Contact
Elation Professional toll-free +1-866-245-6726
E-mail:abby@fucinipro.com
Web Site:www.elationlighting.com