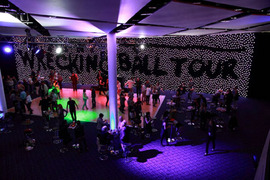 Date Announced: 15 Nov 2013
Kent, UK based technical and creative solutions provider and live communications specialist, Eclipse Presentations, has invested in a series of new ShowLED Animation Cloths which have been added to their extensive stock of drapes and soft goods.
Eclipse designs and produces a plethora of diverse shows and events – including Awards ceremonies, dinners, parties, product launches, conferences and AGMs and experiential of all types - and owns a full range of professional sound, lighting, video, staging and IT equipment which is used to facilitate its busy schedule.
Consistent annual investment in the latest technology ensures that Eclipse can offer its clients the best, most imaginative and cost-efficient options for all of their projects.
Alongside on-going investment in the basics like screens, laptops, microphones, etc., each year, an element of the equipment budget is allocated to purchasing high-end specialist kit like HD projectors, LED lighting, and the latest digital control surfaces.
The ShowLED – supplied by S+H Technical Support - was sourced initially for a series of events at Wembley Stadium for the Football Association and caterers Delaware North Catering. Eclipse services all Wembley's in-house and onsite AV and production requirements.
This included designing VIP areas for several high profile concerts being staged at the venue throughout the summer – including Bruce Springsteen, Robbie Williams and The Killers. Eclipse designed, provided technical infrastructure and dressed and themed the Gold VIP Area located in the venue's Bobby Moore Suite for these shows.
The 6 x 4.5 metre Animation Cloths made an impressive high-impact backdrop to the VIP environment – which featured DJs and various hospitality elements. They were fed with custom created video content produced by Eclipse which was relevant to the artist playing that night – including symbols like guitars, stars, flags, etc. as well as song lyrics. This was stored and played back via an ArKaos media server control system.
Having such a vibrant visual element in the room helped make the evenings even more memorable for all those lucky VIP ticket holders!
Buying the Animation Cloths "Gives us a huge potential and great flexibility for designing backdrops and spaces for events like Awards Ceremonies, weddings, parties and VIP areas as we did at Wembley," explains MD Robin Purslow, adding that Eclipse's in-house graphics team can create bespoke content that can be played back to "create a dynamic and interactive background to any performance."
Reliable and robustly constructed, the Animation Effects Cloth has 31 randomly positioned RGB LEDs per square metre, which can be individually controlled, mapped and used to create a wide range of special effects. It can be fed from video sources stored on any media server or other input devices like a laptop.
In addition to the ShowLED cloths and a large selection of draping and rigging systems, Eclipse also has conventional Pea light starcloths, together with extensive staging, props, plinths, lecterns, etc. and a vast array of custom made furniture at its disposal.
Contact
Eclipse Presentations Ltd. +44-208-662-6444
E-mail:louise@loosplat.com
Web Site:www.eclipse-presentations.co.uk