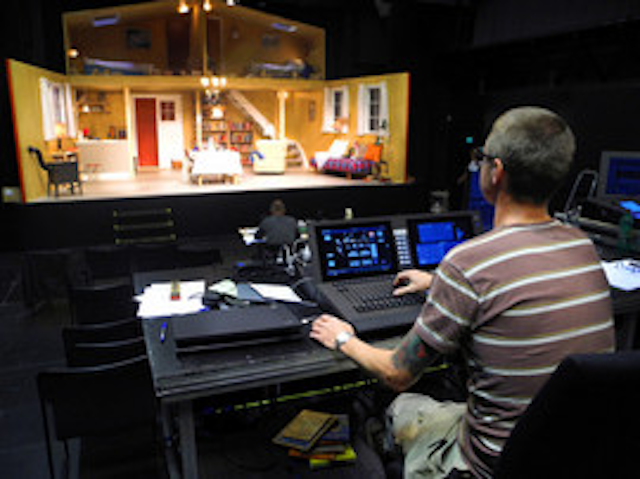 Date Announced: 06 Nov 2013
ETC Gio control for Danish theatre
Anyone who has ever bought expensive new lighting control hardware will know that the decision making process can be a long, challenging process. So when the staff at Svalegangen, a theatre in the western Danish city of Aarhus, started looking for new control desks for their 200 seat main theatre and touring needs, they weren't expecting to make a quick purchase.
They wanted to find a control system with familiar syntax, in order to ease users' learning process on the new desks, and which would have great support and would be future proofed, with regular software updates keeping up with advances in lighting technology.
After browsing the market for a replacement control desk for about a year, head of lighting Anders Kjems and his team decided on ETC Gio for their main stage and a second for touring, complementing the Ion they previously bought for the 40-seat foyer stage. As part of the ETC Eos line, both Gio and Ion use the same control syntax they were used to from their previous desk, enabling both resident and visiting operators to quickly get started on the desk.
Kjems says: "I was very impressed with the level of support offered by ETC and their Danish distributor Bico – my laptop is turned on and connected to ETC's online Eos User Forum most of the time when I am at the desk, and if I need help and suggestions, other users and ETC support personnel are usually only minutes away with helpful advice.
"While this was a great help for us in the process of learning the console, we also took advantage of free training at ETC's London offices, where we picked up more tips and tricks."
Technical Manager Steffen Bredsgaard added that they will be purchasing an addtional Gio for their third venue, which is planned to open next year – a slightly smaller 150 seat hall above the main venue.
Erik Larsen, ETC's Market Manager, says: "ETC is very happy to see our Eos control line gaining market share in Scandinavian countries after the success built around Europe. Kenneth Jacobsen of Bico has been a great ambassador for us in terms of introducing our consoles in Denmark and hosting monthly console training at their facilities in Copenhagen and Vejle, and of course with one-to-one training at users' venues."
Teatret Svalegangen's main venue hosts four different in house productions a year, three of which will tour to around 60 venues across Denmark, as well taking in a number of incoming tours. The venue is use for around 200 days a year.
Concludes Larsen: "The theatre staff took delivery of the systems this summer and brought them into service less than a month later without any difficulties."
For more information on ETC and its products, please visit www.etcconnect.com
Picture caption: Teatret Svalegangen's head of lighting Anders Kjems working on the theatre's new ETC Gio
Contact
Electronic Theatre Controls (ETC - US) +1-800-688-4116
E-mail:americas@etcconnect.com
Web Site:www.etcconnect.com