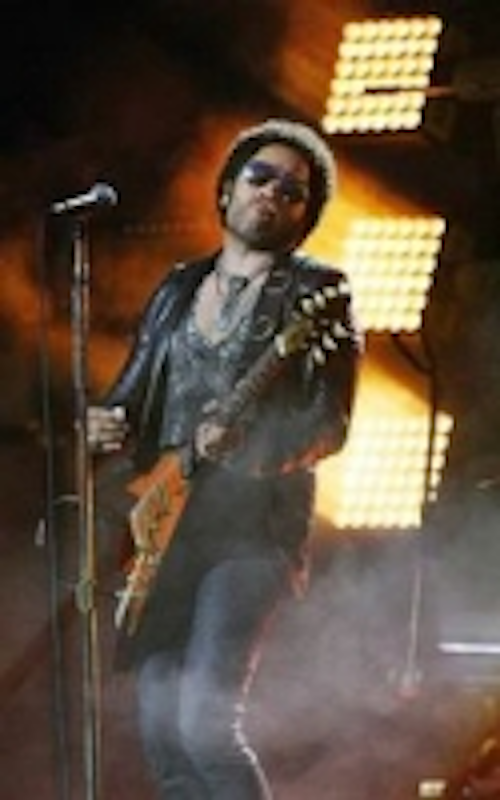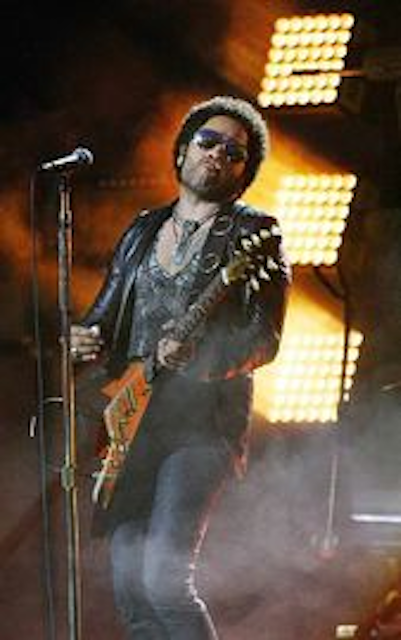 Date Announced: 21 Nov 2013
Ayrton MagicPanel™ 602 lights Lenny Kravitz at the opening ceremony of the 2013 US Open Tennis Championships
Twenty-four Ayrton MagicPanel™602 LED lighting fixtures were used to spectacular effect by lighting designer, Bryan Barancik, at the Opening Ceremony of the 2013 US Open tennis tournament this summer.
The Opening Ceremony, which took place in the 22,500-seat Arthur Ashe Stadium at New York's Flushing Meadows, was lit by Christien Methot. It featured an explosive performance of Are You Gonna Go My Way from Lenny Kravitz who brought in LD Bryan Barancik to design the lighting for his performance.
Barancik chose to relate his design back to the song's iconic music video. The original video, which is still considered outstanding twenty years after it was first released, featured an enormous overhead matrix of light bulbs. Barancik wanted to incorporate a similar aesthetic into the show to tie in with the anniversary of the song. He chose Ayrton MagicPanel™ fixtures as the ideal solution to provide the power and creativity needed to echo this in front of the massive stadium and television audiences, and to punch through the intensity of the large rig of ceremony lighting fixtures.
"It was critical to give an animated background behind the band, especially since the wall of the tennis court was only a few feet upstage of the band, and quite unattractive," says Barancik. "We erected six truss towers each with 4 MagicPanel units mounted to the downstage edge which comprised the majority of the aesthetic both for camera and the live audience."
The MagicPanel™ units were then used as powerful and eye-catching feature lighting throughout the set, chasing colours and graphic elements and being used as audience blinders, whilst making good use of the MagicPanel's continuous rotating pan and tilt capabilities.
Barancik chose the MagicPanel™ fixtures after being shown them earlier this year by Keith Bennett of Morpheus Lights. "I wanted to use them the moment I saw them, and this was the perfect opportunity," says Barancik. "The MagicPanel units really were the ideal fixture for the job: the combination of pixel mapping effects, DMX programming, and the fixture's own internal effects gave us an arsenal of options to play with. In the end, we only used a few in the final programming – outstandingly done by Christien's programmer Jason Baeri - to ensure things looked good on screen and live."
Having now used Ayrton MagicPanel™602 fixtures, Barancik has become an avid fan: "They are a wonderful new product. The continuous pan or tilt rotation is a great option for a different look. They held up well to the fast and bumpy load in and load out dictated by the television schedule and worked flawlessly at showtime."
Ayrton MagicPanel™602 is a moving head LED beam projector equipped with thirty-six 15W Osram RGBW emitters in a 6 x 6 array. Each emitter projects a tight, powerful 7.5° beam and can be controlled individually or used collectively to produce a coherent 15,000 lumen shaft of light, using only 600W of power. The emitters can be pixel mapped or driven by video. To supplement to the graphic possibilities this control provides, MagicPanel™602 can be continuously rotated on both pan and tilt axes, which adds a dynamic dimensional effect to beams individually projected by mapped emitters. MagicPanel is controllable via DMX-512 (w/ RDM capability), Art-Net or KlingNet.
The MagicPanel fixtures were supplied to PRG by Ayrton's exclusive US distributor, Morpheus Lights, for whom Barancik is full of praise. "Keith Bennett and the team at Morpheus are really going out of their way to do a superb job with service and support," he says. "Phone calls and emails were always answered timely, professionally, and helpfully. It's a pleasure working with them."
More information on Ayrton MagicPanel™602 can be found at www.ayrton.eu
Photos:
Lenny Kravitz performing at the US Open Tennis Championships Opening Ceremony in front of Ayrton MagicPanel™602 fixtures. © Monika Graff.
About Ayrton:
AYRTON is specialized in developing intelligent LED light products for Entertainment and Architectural applications.
Based south of Paris, France, the AYRTON Headquarters and Research & Development centre combine and organize the highest competence in engineering, software, electronics and optics, with the aim to create highly innovative fixtures.
AYRTON fixtures are created to answer any demanding installation and criteria, and are distributed through devoted and exclusive worldwide teams. AYRTON uses reliable, flexible and avant-garde technologies linked to innovative design, to provide AYRTON customers with a wide range of pioneer lighting solutions for installation in Stages, TV Studios, Show-venues and Architectural schemes.
Contact
Ayrton + 33-(0)-1-69-10-33-90
E-mail:sales@ayrton.eu
Web Site:www.ayrton.eu