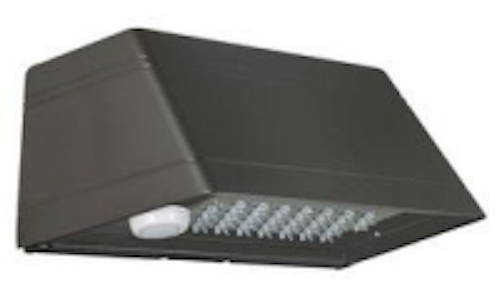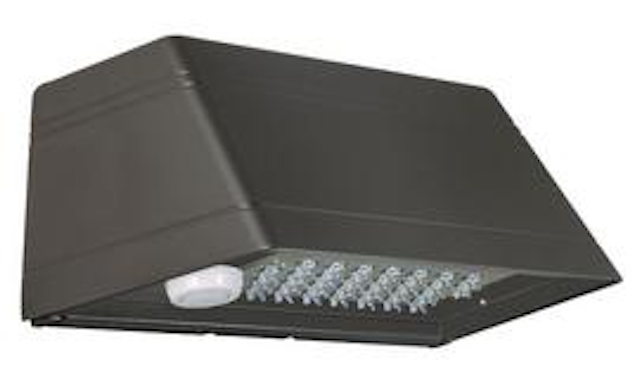 Date Announced: 27 Nov 2013
Efficiently Accentuate Building Exteriors With Spaulding Lighting's LED Trapezoid And Radius Wall Sconces
GREENVILLE, S.C., Nov. 25, 2013 /PRNewswire/ -- Hubbell Lighting, a world leader in lighting innovation, announced today two new high performance, energy-efficient LED wall sconces—Spaulding Lighting's LED Trapezoid (TRP) and Radius (RDI) fixtures. Designed to beautifully accentuate a building's architecture, the TRP and RDI are the perfect choice to efficiently light large office buildings, retail stores, chain restaurants, apartments, schools, campuses, and warehouses.
With up to 20 foot mounting heights and zero uplight, the TRP and RDI LED wall sconces provide excellent and uniform illumination in three distributions—Type II, III and IV (forward throw). The TRP and RDI utilize 30L high brightness LEDs and are available in two lumen packages—3500 lumens at 105 lumens per watt and 5062 lumens at 96 lumens per watt of 3000K, 4200K, or 5100K nominal CCT light.
The fixtures are configurable with occupancy sensor options that deliver optimum performance and energy savings and control options that include photo control, motion sensor On/Off control with no light output when no motion is detected, and programmable motion control.
The TRP and RDI LED wall sconces are constructed with durable die-cast aluminum and are offered in seven standard finishes: dark bronze, black, gray, white, platinum, red, forest green and custom colors are also available.
The TRP and RDI LED wall sconces replace Hubbell Outdoor Lighting's TRP-20L and RDI-20L LED luminaires and deliver 40% to 100% more lumen output and up to a 7% cost savings.
Listed to UL1598 for use in wet locations, the TRP and RDI LED wall sconces will be certified to meet DLC requirements in December 2013 and come with a five-year warranty.
For additional information on the Spaulding Lighting's TRP and RDI LED wall sconces, please visit http://www.spauldinglighting.com/.
About Hubbell Lighting
Hubbell Lighting is one of the largest lighting fixture manufacturers in North America. The company provides a full range of indoor and outdoor lighting products serving the commercial, industrial, institutional, and residential markets. Hubbell Lighting brands include Alera Lighting, Architectural Area Lighting, Beacon Products, Columbia Lighting, Compass Products, Devine Lighting, Dual-Lite, HomeStyle Lighting, Hubbell Building Automation, Hubbell Industrial Lighting, Hubbell Outdoor Lighting, Kim Lighting, Kurt Versen, Prescolite, Progress Lighting, Security Lighting, Spaulding Lighting, Sportsliter Solutions, Sterner Lighting Systems, Thomasville Lighting, and Whiteway. Hubbell Lighting: one name, distinctive brands, limitless lighting possibilities. For additional information, please visit www.hubbelllighting.com and follow Hubbell Lighting on YouTube, Twitter and Facebook.
Contact
864-678-1000
Web Site:www.hubbelllighting.com