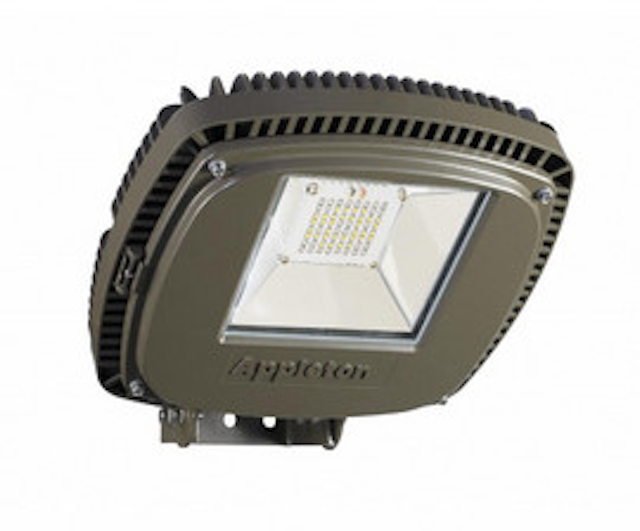 Date Announced: 11 Nov 2013
ROSEMONT, IL -- Appleton announced that The Designlight Consortium® (DLC), a non-profit organization committed to accelerating energy efficiency in the Northeast and Mid-Atlantic region, has certified several models of its Mercmaster LED and Areamaster LED product line. The certification will open up new opportunities for Appleton LED fixtures in industrial and commercial sites where its customers can now receive incentives from state and utility energy programs.
Appleton's enclosed and gasketed Mercmaster LED Series luminaires provide next generation energy efficiency and safety for locations subject to severe weather conditions, vibration and shock, corrosive chemicals and hazardous atmospheres. Qualifying Mercmaster products are:
- MLEDN-X-15-X-P-5-BU-XX
- MLEDN-X-17-X-P-5-BU-XX
- MLEDN-X-17-X-P-5-BH-XX
- MLEDN-X-25-X-P-5-BU-XX
- MLEDN-X-25-X-P-5-BH-XX
Areamaster LED Flood and High Bay Luminaires, universally designed for floodlight and highbay mounting, are rugged and dependable for areas where rough usage is a problem. Qualifying Areamaster products are:
- AMLED87YBU1
- AMLED87YBU1D
The Designlight Consortium® promotes quality, performance and energy efficient commercial sector lighting solutions through collaboration among its federal, regional, state, utility, and energy efficiency program members; luminaire manufacturers; lighting designers and other industry stakeholders throughout the U.S. and Canada. Over its 14 year history the DLC program has driven the lighting market towards innovation by providing information, education, tools and technical expertise for cutting edge technologies.
For more details, please visit www.appletonelec.com. The DLC Qualified Products List (QPL) has been updated on the DLC website www.designlights.org.
About Appleton
Appleton is a premium line of hazardous location products under the EGS Electrical Group family of brands. EGS Electrical Group is a worldwide manufacturer of electrical products for virtually every type of environment. Distributors, contractors, engineers, electricians and site maintenance professionals around the world trust EGS brands to make electrical installations safer, more productive and more reliable. EGS is organized into three focused businesses that provide distributors and end-users expert knowledge and excellent service. It is part of the EGS Electrical Group, LLC, a division of Emerson Industrial Automation and is headquartered in Rosemont, IL.
About Emerson
Emerson (NYSE: EMR), based in St. Louis, Missouri (USA), is a global leader in bringing technology and engineering together to provide innovative solutions for customers in industrial, commercial, and consumer markets around the world. The company is comprised of five business segments: Process Management, Industrial Automation, Network Power, Climate Technologies, and Commercial & Residential Solutions. Sales in fiscal 2012 were $24.4 billion.
Contact
Appleton - a member of the EGS Electrical Group +800-621-1506
E-mail:egseg.customerservice@emerson.com
Web Site:www.emersonindustrial.com/en-US/egselectricalgroup/brands/appleton/Pages/appleton.aspx