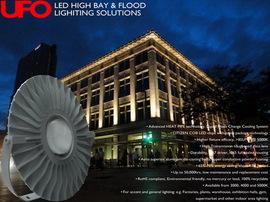 Date Announced: 01 Nov 2013
EIC has extended its UFO LED high bay & flood lights to higher watt and ranges from 45-120W.3000K (Ra:80) and 5000K (Ra:65&80) are available.
- Advanced HEAT PIPE technology, Liquid Phase Change Cooling System
- CITIZEN COB LED chips with latest package technology
- Higher fixture efficacy, >85LPW @ 5000K
- High Transmission toughened glass lens
- Durability, IP67 driver, IP65 full sealed housing
- Aero superior aluminum die-casting body, super conductive powder coating
- 65%-75% energy saving, short ROI period
- Up to 50,000hrs, low maintenance and replacement cost
- RoHS compliant, Environmental friendly, no mercury or lead, 100% recyclable
- Available from 3000, 4000 and 5000K
- For accent and general lighting: e.g. Factories, plants, warehouse, exhibition halls, gym, supermarket and other indoor area lighting
EIC applies CITIZEN COB as its light engine solutions and CITIZEN LED deliver up to 155 lumens per watt (5000K), which is 30% as efficient as many light engines, which greatly improves EIC luminaires' efficacy up to 85LPW. EIC LED Lighting products are perfect for use with photocell because the service life is unaffected by frequent on-off switching. LEDs do not waste energy as a filament does which has to be first heated until white hot to emit light.
EIC R&D team has more than 10 years of thermal management solution research. After 5 years research and testing, EIC introduced its HEAT PIPE liquid phase change cooling system. That makes EIC to be the first company dare to use only high power COB light engine on its luminaires. EIC is to be the first company in the world to integrate the heat sink and housing completely together and unique company to use the heat generated from LED to drive liquid phase change and flow around in the housing for dissipate heat.
Please contact sa02@eicsun.com for latest catalog.
Contact
Roger, EIC Electronic China
E-mail:sa02@eicsun.com
Web Site:www.eicsun.com