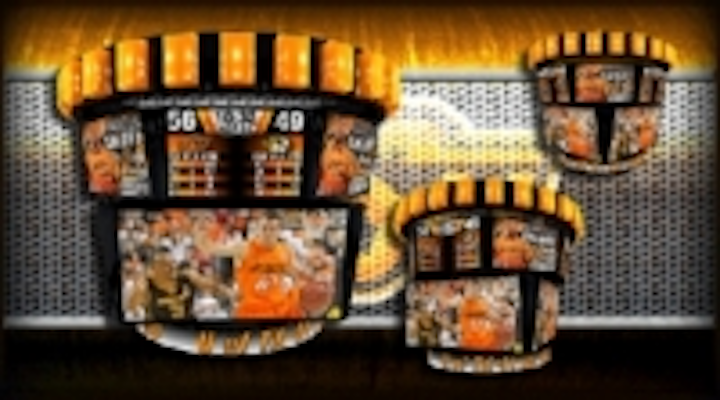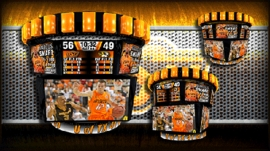 Date Announced: 05 Nov 2013
BROOKINGS, S.D. - Daktronics (Nasdaq – DAKT) of Brookings, S.D., announced that Oklahoma State University has asked the company to design, manufacture and install integrated display systems in Gallagher-Iba Arena and Boone Pickens Stadium for Cowboys sporting events of basketball and football, respectively.
Gallagher-Iba Arena
The oldest, most historic basketball arena in the Big 12 will receive an updated centerhung video display system with four main LED video displays, each featuring 6 millimeter line spacing and measuring more than 9 feet high by more than 16 feet wide. Each display is capable of highlighting live video and instant replays with excellent image clarity and wide angle visibility. The displays can also be sectioned to show a variety of graphics, animations and statistics.
The centerhung also features eight additional LED video displays above the main displays and a ring display circling the bottom of the structure. Each video display will measure 6 feet high by more than 10 feet wide and feature 15 millimeter line spacing. The ring display will measure 3 feet high by more than 62 feet in circumference. These displays are able to highlight additional graphics, statistics and sponsor animations.
"Gallagher-Iba Arena has long been considered one of the great facilities in college athletics," said Dave Martin, deputy director of athletics for Oklahoma State University. "We feel with the addition of our new video displays, fans can now enjoy modern technology in a traditional college basketball setting."
Boone Pickens Stadium
One of the oldest on-campus college football stadiums in the country received a a total of six new auxiliary displays, each featuring 15HD pixel layouts. The four displays located in the west end zone will measure more than 21 feet high by 6 feet wide, and the two displays located in the east end zone will measure 7 feet high by nearly 35 feet wide.
These displays incorporate excellent image clarity and contrast, multiple levels of protection from the elements, and a robust cabinet design. They are capable of showing a variety of vivid graphics, colorful animations, up-to-the-minute statistics, scoring information and sponsor advertisements, all with outstanding brightness and wide-angle visibility.
"Boone Pickens Stadium has undergone massive changes in recent years and the new video boards are a continuation of that process," said Martin. "We're excited about their addition and what it will mean for our fans on game day."
Included with the installations, Daktronics Creative Services will also be providing a content package that consists of game-day animations and graphics to be created at the request of the university.
"Daktronics appreciates this opportunity to continue our relationship with Oklahoma State University," said Perry Grave, Daktronics sales representative. "These new displays will be an exciting addition to both Boone Pickens Stadium and Gallagher-Iba Arena."
Daktronics LED video and messaging display technology offers a long lifetime with minimal maintenance and low power consumption, providing value and excitement for years to come.
About Oklahoma State University Athletics
Oklahoma State University Athletics has a storied history at each of their facilities. Gallagher-Iba Arena is home to more national championships than any other facility in America. The start of the 2013 season marks the 75th season as the home to Cowboy Basketball. Meanwhile, Boone Pickens Stadium is now a state-of-the-art facility that not only provides Oklahoma State football with a unique game-day environment, it also provides unrivaled facilities for daily operations at a convenient location.
About Daktronics
Daktronics is recognized as the world's leading provider of full-color LED video displays. Daktronics began manufacturing large screen, full-color, LED video displays in 1997. Since then, thousands of large screen video displays have been sold and installed around the world. Since 2001, independent market research conducted by iSuppli Corp. lists Daktronics as the world's leading provider of large screen LED video displays.
Daktronics has strong leadership positions in, and is the world's largest supplier of, large screen video displays, electronic scoreboards, computer-programmable displays, digital billboards, and control systems. The company excels in the control of large display systems, including those that require integration of multiple complex displays showing real-time information, graphics, animation and video. Daktronics designs, manufactures, markets and services display systems for customers around the world, in sport, business and transportation applications. For more information, visit the company's World Wide Web site at: http://www.daktronics.com, e-mail the company at sales@daktronics.com, call (605) 692-0200 or toll-free (800) 325-8766 in the United States or write to the company at 331 32nd Ave. PO Box 5135 Brookings, S.D. 57006-5135.
Contact
Justin Ochsner, marketing +1-605-692-0200
E-mail:justin.ochsner@daktronics.com
Web Site:www.daktronics.com