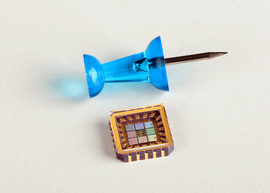 Date Announced: 05 Nov 2013
Largo, Fla. - PIXELTEQ has released its PixelSensor™ 8-band multispectral photodiode array, packing eight wavelength-selective photodiodes into a compact 9mm square sensor. PixelSensor enables multispectral sensing at a smaller scale by integrating spectral filters at the sensor level, simplifying optical designs and reducing device integration costs.
The PixelSensor photodiode splits the visible spectrum into eight discrete color bands. Its standard 20-pin LCC package can be surface or socket mounted. Common cathode operation provides low noise and fast response time. Customized OEM versions of PixelSensor are also available with user-defined spectral bands. Using PIXELTEQ's exclusive micro-patterned optical filter technology, narrowband filters deliver improved sensitivity and contrast for multispectral applications from portable color monitors to industrial and scientific instruments.
"Continuous 8-band sensing from a device that fits on your fingertip is a powerful tool for designers," said Randel Mercer, VP Business Development of PIXELTEQ. "It's exciting to see how our clients are implementing application-specific sensors that improve health, productivity, quality and safety across a wide range of devices."
PIXELTEQ provides micro-patterned spectral filters, sensors, and cameras – helping users shrink multi-wavelength devices into a single package, enable new optical features and deliver application-specific sensors and cameras.
This Press Release and an archive of all PIXELTEQ news can also be found on its News Blog at http://halmapr.com/news/PIXELTEQ/
About PIXELTEQ:
PIXELTEQ provides OEM spectral sensing and imaging products, patterned optical filters and custom electro-optical devices for a variety of aerospace, biomedical, industrial, scientific and security applications. At the heart of each multispectral device is an array of pixel-level spectral filters purpose-built for applications. Leveraging comprehensive know-how in thin film coating, micro-patterning and electro-optical integration, PIXELTEQ's specialists collaborate with client teams to provide expert design assistance and custom-engineered solutions from rapid prototyping through high-volume OEM production. PIXELTEQ is a subsidiary of Halma plc, an international market leader in safety, health and environmental technology.
Contact
Pixelteq +1-727-545-0741
E-mail:info@pixelteq.com
Web Site:www.pixelteq.com