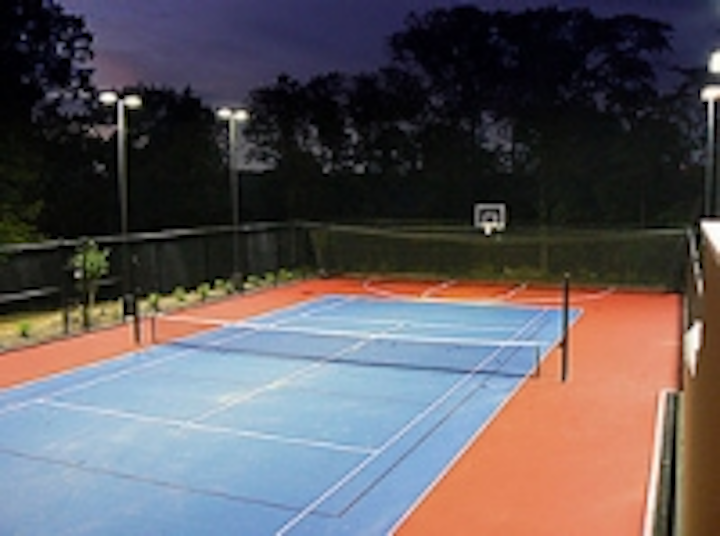 Date Announced: 18 Nov 2013
Cincinnati, OH – Historically, lighting for outdoor tennis courts required metal halide systems because of the high light levels required for effective play. The homeowner constructing a tennis court at their residence in Alton, IL was looking for a more innovative option and chose an LED lighting system manufactured by LSI Industries. Versus traditional 1000w metal halide fixtures, the LSI solid-state LED fixtures reduced the total connected electrical load more than 50%. The eight pole lighting system provides vivid illumination with uniform lighting levels across the playing surface. The forward throw reflector system of the LED fixtures provides sharp cutoff behind the fixtures, eliminating spill light to the area surrounding the court. The LED lighting system will provide years of maintenance-free operation with little lumen depreciation over the life of the system. An added bonus is that the LED fixtures operate at full brightness immediately when they are turned on, as opposed to the gradual warm-up time required for metal halide fixtures. In the end, the homeowner and the installing contractor (McConnell Sports / St. Louis, MO) agreed that the LED lighting system was a winner.
LSI is a technology company in the lighting and graphics industries. We are a vertically integrated manufacturer who combines assimilated technology, design and manufacturing to produce the most efficient, high quality lighting and graphics products possible. In addition, we can provide sophisticated lighting and energy management control solutions to help customers manage their energy performance. Further, we offer design support, engineering, installation and project management for custom graphics rollout programs for today's retail environment.
LSI is a U.S. manufacturer with marketing/sales efforts throughout the world with concentration currently on North American, South American, Australian, and New Zealand, Asian and European markets. LSI's major markets are the commercial/industrial lighting, petroleum/convenience store, multi-site retail (including automobile dealerships, restaurants and national retail accounts), sports and entertainment markets. The Company's common shares are traded on the NASDAQ Global Select Market under the symbol LYTS.
Contact
Minda Matthews-Smith director of marketing
E-mail:info@lsi-industries.com
Web Site:www.lsi-industries.com