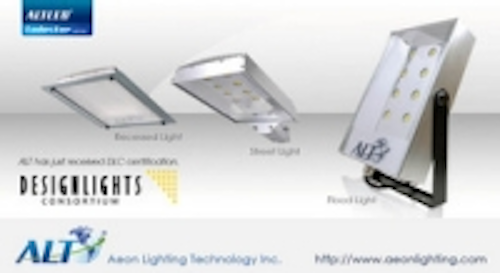 Date Announced: 05 Jan 2013
Aeon Lighting Technology Inc. (ALT) has just received Design Lights Consortium (DLC) certification for its outdoor lighting series—Lodestar—through its partner L.E.D. Rite, LLC, located in Illinois, USA. ALT has continued to raise the bar with constant innovation and improvement in high power LED lighting, becoming the leader of innovation in the LED lighting market. Receiving DLC certification is another testament to this fact.
Design Lights Consortium (DLC)-an organization funded by, and associated with, the U.S. Department of Energy (DoE)-focuses on certifying only high quality and high performance LED lighting products. DLC is used as the standard in the US for LED lighting, for both private and public projects. The many available energy rebate programs dealing with LED lighting products require DLC certification in order to be eligible for any incentives.
ALT's Street Light series is currently under field evaluation with Minnesota Power. Minnesota Power is working to establish LED Lighting as the new standard for all Street Lighting Applications in their territory. ALT/LED Rite is honored to be one of just four finalists: ALT/LED Rite, CREE, GE, and Philips. The evaluation criteria established by Minnesota Power requires DLC Certification, as well as many other rigorous requirements. ALT's IP68 certification along with superior power supply design and thermal management has raised the bar in the LED Street Lighting Market and has been recognized by Minnesota Power.
Minnesota Power is as passionate about energy conservation as ALT. This is evidenced by their statement: "we are committed to energy conservation through recognition of advanced technologies… our objective is to continue to align ourselves with leading manufacturers of state-of-the-art products that we can promote both internally within our organization and externally to our many end use customers."
James Liang, CEO of ALT, expressed tremendous enthusiasm towards DLC's approval of ALT's widely applicable outdoor lighting series, which can be used in projects dealing with street lighting to gas stations to warehouses. "This is, indeed, great news. It will only be a matter of time before all lighting applications are using energy efficient LEDs, and I believe that ALT that will be at the forefront of this wave of change."
For more information please visit www.aeonlighting.com or email info@aeonlighting.com
Contact
Michelle Chao +886-2-8226-1289
E-mail:info@aeonlighting.com
Web Site:www.aeonlighting.com