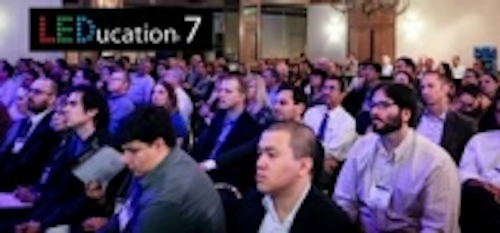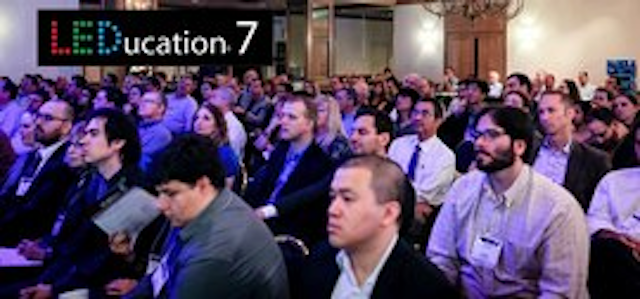 Date Announced: 30 Jan 2013
LEDucation 7 announces versatile line up of speakers for the 7th annual premier event on LED Technology to be held in NYC oN March 20th.
The Designers Lighting Forum of New York (DLFNY) is proud to announce its versatile speaker line up and also notify attendees that event registration for "LEDucation 7" is officially open. As the premier lighting event dedicated to advancing the education of the lighting community, LEDucation 7 will take place in New York City on Wednesday, March 20, 2013.
"We have a very diverse line up of educational sessions for this year's LEDucation event." commented Speaker Chair, Wendy Kaplan of Feelux Lighting. "We have industry experts leading informative discussions on the new ZHAGA standard and how this new tool can help address the new NEMA Standards for dimming. We also have a variety of presentations that can help attendees learn to work more efficiently and effectively with LED technology in their projects from both a design perspective, as well as a controls platform. And as our LEDucation tradition continues, we continue to provide attendees with the latest information on meeting and addressing code compliance and standards".
The annual educational expo hosted by the DLFNY has gained a regular following over the years and continues to attract record crowds with an attendance of over 2,200 in 2012. All sessions are eligible for Continuing Education Units (CEU) and are scheduled in four different sessions during the day starting at 10:30 a.m.. In conjunction with the seminars, a special exposition is available for attendees to view the latest LED luminaires, controls and energy efficient designs and advancements from over 150+ leading LED manufacturers. Due to the growing popularity of the annual expo and seminars, event officials have expanded the exhibit hall for 2013 in a new location the Penn Plaza Pavilion located on the first floor of the Hotel Penn Plaza.
The DLFNY is proud to announce the following LEDucation speaker line-up of educational programming on LED Technology.
Can LED's Make Code Compliance Easier?
Marty Salzberg, IALD, IES, Senior Associate from Cline Bettridge Bernstein Lighting Design and Michael Mehl from Jaros, Baum & Bolles will lead a discussion of current energy codes and how LED's assist with code compliance. The speakers will discuss using ASHRAE 90.1 2010 New York State and New York City Code and illustrate how LED either uses less energy than another specific technology. Discussion will also consider how compliance is simpler with the new controls requirements with LED instead of MH or FL/CFL
Anatomy of a Project
Janet Lennox Moyer and C. Brooke Silber from Jan & Brooke, Luminae will outline some of the issues associated with using LEDs for interior and exterior projects. The presentation is designed to walk through an interior project and an exterior project discussing and analyzing some of the unique characteristics of using LED's in the context of the complex decision making that goes into a project.
The Zhaga Standard –LED Engine Specifications and Dimming Standards
Greg Galluccio from Leviton Manufacturing will provide an overview of the Zhaga Standard, an industry-wide cooperation aimed at enabling the interchangeability of LED light sources that was comprised from over 200 of the most influential lighting companies around the globe. Its mission is to create specifications for interchangeability of components in LED lighting applications. This session will provide an opportunity to learn more about Zhaga, its specifications, its progress to date, and how companies can take advantage of Zhaga's work. Lindsay Stefans from Philips Lighting will provide details on how Zhaga can be used to specifically address NEMA standards for SSL7 Phase Cut Dimming. Learn about these upcoming specifications and standards so that you can have some peace of mind when specifying LED lighting solutions.
Controlling LED Lighting
Craig Fox from ETC Architectural and Jesse Lowenstein, iGuzzini Lighting USA will address the recurring question in the lighting industry with regard to controlling LED lighting. This session will address the wide variety of available control options for LED lighting. It is intended for lighting designers, engineers, and architects who need to understand and specify control systems for commercial and residential lighting.
Next Generation Luminaires (NGL)
Ruth Taylor, Project Manager at Pacific Northwest National Laboratory and Barbara Horton, President of HLB Lighting will discuss the evaluation process of the Next Generation Luminaires SSL Design Competition and review the highlights, developments and trends the competition reveals. Following the program review, the results of the 2013 NGL design competition will officially be announced. This is the fifth competition for indoor luminaires and the first to be announced in New York City.
Online Registration is currently open at http://www.leducation.org. DLF and IES members can attend at no charge with advance registration and $20 for all other advance registrations. Students are also encouraged to attend as a complimentary guest with a valid ID.
LEDucation 7 will be held at the Hotel Pennsylvania in the Penn Plaza Pavilion located between 32nd & 33rd Streets – across from Madison Square Garden. Visit http://www.Leducation.org or dlfny.org for further event details and session schedules.
ABOUT THE DLFNY:
The Designers Lighting Forum of New York is committed to exploring and presenting the power of lighting in design. Founded in 1934, the Designers Lighting Forum is a not-for-profit organization, led by a volunteer Board of Managers and sustained by member dues and the generous support of our corporate sponsors. They enthusiastically provide designers, architects, manufacturers and their representatives, contractors, educators, and students the opportunity to meet and experience the wonder of lighting in New York City and beyond. The DLFNY also supports formal lighting education through contributions to local universities and design schools, as well as national funds.
LEDucation is supported through the volunteer efforts of DLFNY members.
Committee Chair:
Co-Chair – Burt Grant – Metro Area Sales
Co-Chair – Robert Nadel – Energy and Lighting Systems, Ltd
Committee members:
Wendy Kaplan – Feelux Lighting
Clifford Starr – Lighting by Gregory
Nathalie Faubert – Cline Bettridge Bernstein Lighting Design
Gary Mann – New Gen Lighting & Energy
Max Hoover – Goodmart Lighting & Electrical Product Sales
Jamie Eck – Philips Lighting
Matt Dacey – The Dulanski Group
Contact
LEDucation
E-mail:info@leducation.org
Web Site:www.leducation.org