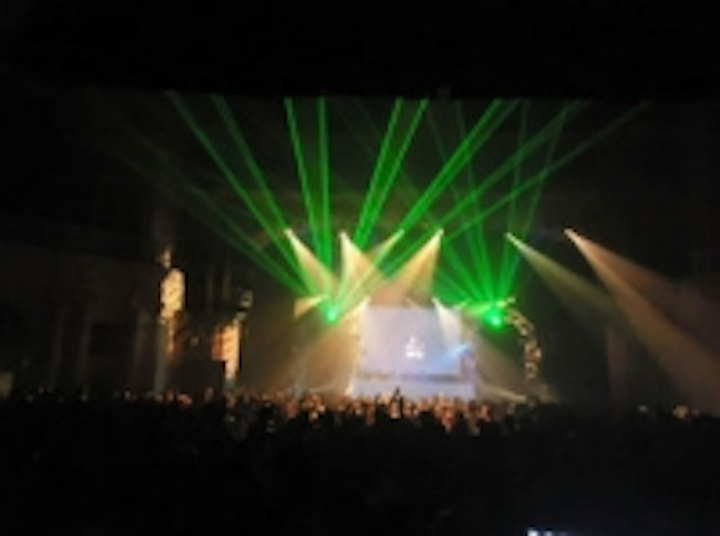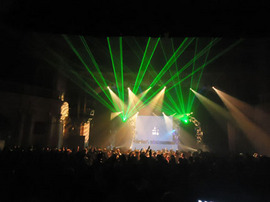 Date Announced: 09 Jan 2013
Leading UK lighting and visuals rental company Colour Sound Experiment rocked into 2013 in great style supplying lighting, LED screens and lasers to two mega successful events at London's famous Brixton Academy venue.
On New Year's Eve the sold-out "UKF Bass Culture" by Lock & Loaded welcomed 2013, and on New Year's Day … after a few hours break, the celebrations kicked in again, this time with Colour Sound working for the Circo Loco Coalition.
CSE's Haydn Cruickshank and Steve Marley designed a production rig that took into account the main requirements for both events. CSE was able to offer a versatile, dynamic and cost-efficient visuals package for both events.
UKF Bass Culture was headlined by a DJ set from Chase & Status and also featured some of the UK's best bass artists including DJ Fresh, Foreign Beggars, Shy FX & B-Traits, MistaJam, KOAN Sound and Delta Heavy ... while Circo Loco's event included spin house and techno sounds from DJs Tania Vulcano, Seth Troxler, Maceo Plex, Davide Squillace, System of Survival, Cirillo, Clive Henry and Shaun Reeves.
The visuals were based on two straight trusses – front and rear - and two arched trusses over the stage.
On the front truss were three Atomic strobes, six Showtech Active Sunstrips, four GLP Impression 120 RZ Zooms and six GLP Impression Spot Ones. On the back truss were another six Active Sunstrips and Spot Ones and six Martin Professional MAC 250 Beams.
The two arched trusses were identical in terms of lighting instruments. Both were rigged with six Impression 120 RZ Zooms and four 2-lite blinders, three Atomics and 24 Pulsar Chroma Strips which were zig-zagged around the curvature of the metalwork bringing a bit of pizazz and definition to the overall stage look.
CSE also supplied two 6 Watt green lasers on each arch – capitalising on the current renaissance of this light form for shows! These were operated by the Colour Sound team using Show Designer control software.
On the floor were another four GLP Spot Ones and a selection of fog and haze machines to provide the requisite atmospheric engineering.
The LED screen comprised one large 6 metre wide by 4 metre high surface upstage, made up from CSE's proprietary BT12, with a six metre high by one metre wide strip of BT12 cladding the front of DJ booth. This looked very cool!
Video content was supplied by VJs from each event organisation stored on laptops which were integrated into the system by the CSE crew.
Lighting was operated via a Chamsys MQ200 console by a combination of Colour Sound technicians including Crew Chief Jon Rickets, Toby Lovegrove and Stu Barr, who were joined by Matt Rimmer and Steve Marley (also the Project Manager) on the crew for the two events.
The get-in commenced on the morning of New Year's Eve, and was quick and seamless in a well-oiled operation executed by an experienced crew who also know the venue very well.
Says Steve Marley, "We were very pleased with the outcome. It all worked like clockwork and it was a great way to start the year with a kicking, sold out New Year's Eve followed straight on by a hugely popular New Year's Day show – and lots of happy people!"
Contact
Louise Stickland +44 7831 329888 +44 1865 202679
E-mail:louise@loosplat.com