Chauvet Professional at 2013 Orange Bowl Halftime Show
Jan 10th, 2013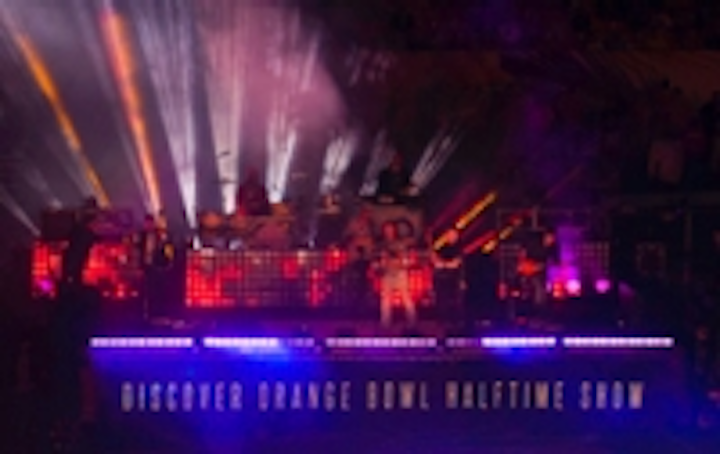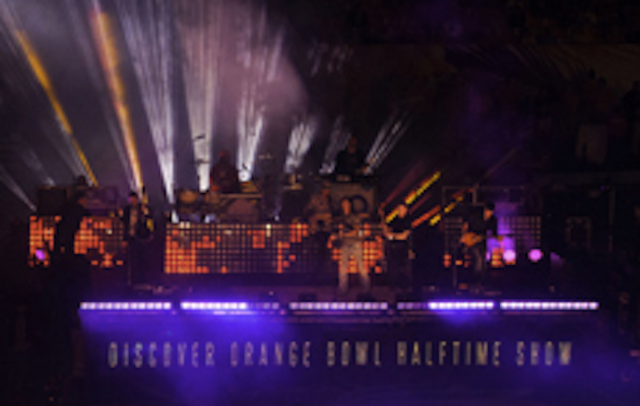 Date Announced: 10 Jan 2013
Miami Lakes, Fla. — CHAUVET® Professional took on the stage during the exuberant halftime show of the 2013 Discover Orange Bowl, organized at Sun Life Stadium and broadcasted by ESPN. Nexus™ 4x4 eye-candy wash lights accompanied country singer Jake Owen, who entertained the large audience as the halftime headliner.
Randy Taylor, lighting designer and founder of Design & Productions Dallas-based full-service design and creative services company, specified 36 CHAUVET® Professional Nexus™ 4x4 pixel-mapping fixtures for the show. Taylor placed three arrays of Nexus™ 4x4 on stage right behind Owen: a central wall of 20 fixtures, flanked by two smaller walls of two-by-four wash lights. During the entire performance, the bold Nexus™ 4x4 delivered great effects and was also used as audience blinder, becoming the main lighting attraction on the stage.
Nexus™ 4x4 has 16 20-watt RGB COB LEDs and is capable of delivering at once the sizzle of a pixel mapping display and a robust light output. The combination of COB emitters and a clever reflector design yields a striking, diffused light richly drenched in saturated hues. Nexus™ 4x4 is controllable via Art-Net, Kling-Net and DMX protocols and features interlocking hardware to build large arrays.
For the halftime show, the Chauvet team operated the wash lights through Kling-Net control on the ArKaos Mediamaster™ software. The cues were triggered via DMX from the GrandMA lighting console, using the Enttec DMX USB PRO hardware/software interface.
"We are thrilled that Lighting Designer Randy Taylor decided to use the Nexus™ 4x4 lights at the Orange Bowl halftime show, after seeing it in action at LDI 2012," said DeAnna Padgett, National Sales Manager for CHAUVET® Professional. "Nexus™ 4x4 is a beautiful, versatile fixture that looks great in arrays and really shines in a concert setting."
Photo credit: ACT Productions
Contact
800.762.1084
E-mail:sales@chauvetlighting.com
Web Site:www.iluminarc.com