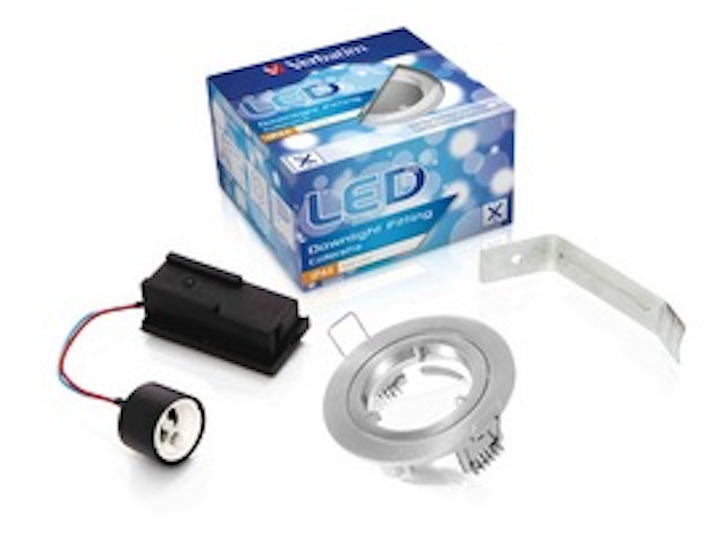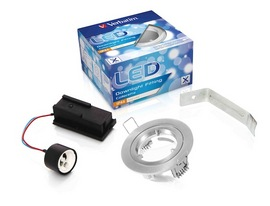 Date Announced: 29 Jan 2013
For the first time, Verbatim is selling fixtures to complement the high-quality and reliable LED lamps it already supplies. The stylish fixtures perfectly fit Verbatim's PAR16 GU10 lamps and are ideal to provide a handy and economical lighting upgrade to homes and offices.
Sold through B2B and trade channels across Europe, each fixture pack consists of a fixed ring available in either white or brushed aluminium plus a holding pin, a GU10 socket and electrical connection box.
The fixtures are available in two different IP protection ratings. While the IP23 rated version is suitable for general-purpose lighting including kitchens, living rooms and bedrooms, the IP44 version offers better defense against intrusion from splashed water making it ideal for lighting in bathrooms and other wet rooms.
Verbatim's robust and solid LED downlighting fixtures are easy to install generally without needing tools as they simply fit into standard size cut-out holes used by existing downlighting fixtures mounted in ceilings. The new products are adjustable and offer a straightforward twist and lock connection system.
Drawing on the continued success of its existing range of LED lamps, Verbatim is introducing a raft of new products to meet growing demand across a wide variety of lighting applications.
Customers will appreciate wider choice of brightness specifications and excellent colour rendering with colour temperatures between 2700K to 4000K which remain stable and consistent in use. Due to improvements in form factor, the LED lamps are a better fit in luminaires that include recessed fixtures.
For example, a new set of MR16 and PAR16 LED spotlights from Verbatim which are binned to a 4-step MacAdam ellipse tolerance deliver colour temperature variations which are almost invisible to the eye, create uniform light distribution without any shadows and are available in improved beam angles of 35° & 55°. With a low power rating of 7W, the MR16 LED lamps are equivalent to 35W halogen lamps while the PAR16 LED lamps replace 50W halogen spots. They are ideal for accent lighting in hotels, restaurants, shops and museums as well as for use in the home.
Verbatim has finalised its family of AR111 LED lamps for use in retail and other commercial locations meaning that there are more solutions to choose from. The options now include a 14.5W AR111 lamp with a luminous intensity of 3900 candelas, output of 850 lumens and colour temperature of 4000K (neutral white). Alternatively, you can choose a 3000K (warm white) lamp with 800 lumens output and 3700 candelas. With its beam angle of 25°, the lamp will highlight merchandise within a relatively narrow beam. In overhead lighting applications where a broader beam angle is required, Verbatim offers three additional AR111 LED lamps with a beam angle of 35° and lumen outputs of 720, 750 and 880 respectively. For added convenience, this set of lamps has an interchangeable outer ring available in white or silver to enable customers to more easily colour coordinate the lamps with the fixtures they have.
For households, a set of new dimmable Classic A E27 and B22 lamps for general indoor illumination are available in 7.5W or 10.5W to replace 40W or 60W traditional lightbulbs respectively. Verbatim has also launched an IP65 protected 7.5W Classic A E27 that is suitable for outside either in the garden, around the house or wherever a waterproof LED lamp is needed.
Verbatim's 4W LED candle with 250 lumens output and a wide beam angle of 250° is another noteworthy addition. At 2700K, the candles emit a cosy glow and are the perfect energy efficient lighting solution for general lighting at home or in restaurants and hotels.
Backed by the expertise of Mitsubishi Chemicals Corporation with over half a century of expertise in lighting, the Verbatim portfolio of LED products can always be relied upon to deliver class-leading performance, compatibility and quality.
Contact
Nayl D'Souza, Publitek on behalf of: Verbatim Prestige House 23-26 High Street Egham Surrey TW20 9DU England
E-mail:verbatimled@publitek.com
Web Site:www.verbatim-europe.co.uk