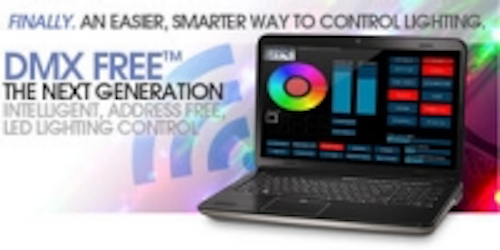 Date Announced: 15 Jan 2013
CROSSROADS LED announces the release of its new DMX FREE™ website. The user-friendly website was designed to provide more detailed information regarding the nature of DMX FREE™, how it works, and why this new patent-pending technology is a significant advance for the LED lighting industry. Additionally, the new website complements its DMX FREE™ line of LED products.
DMX FREE™, is a new approach to intelligent lighting control introduced by Crossroads LED in 2012, and was originally designed to alleviate some of the difficulties the amusement and entertainment industries have had with conventional DMX control technology. Originally created in 1986 for stage lighting, DMX controls were broadened for use in the amusement and venue lighting as LED technology entered the marketplace. However, these systems have created frustrations with its cumbersome DMX universes, addresses and controls. Countless hours are generally spent programming color changes, effects and intensities.
As part of its focus on easy-to-use systems and owner/user oriented preferences, Crossroads LED combined its line of DMX FREE™ LED lighting with the 2012/2013 release of its new DMX FREE™ Wireless Control Interface that places the ability to change intensity, color and effects back into the hands of the owners/users of LED lighting. With the use of a laptop, users now have the freedom to wirelessly access any DMX FREE™ LED installation and make changes that suit their needs, such as seasonal changes and customer participation/interaction.
Due to the uniqueness of this new approach, Crossroads LED wanted to provide an information portal for its customers to learn more about this new technology and how it alleviates the barriers faced by current DMX users. "Information is power," said Crossroads President, Dana Stefanoff, "and it was important to make sure that our clients had all the information they needed to choose not only the LED lighting that would meet their current needs but also lighting controls that would stand up to scrutiny. With that, we created the www.DMXFREE.org website to provide that information."
In addition to the high-output, multicolored LED lighting and controls, Crossroads LED is broadening its DMX FREE™ control interface and applying it to a new line of interior and exterior commercial and architectural white and multicolor lighting. "The bottom line is the ability of the consumer to make lighting decisions thenselves. Whether it is lighting an amusement ride, performing arts center or an office building, we want to make sure that our clients can choose not only the design but also the energy-efficient settings that meet their own unique aesthetic and cost savings goals," said Buddy Stefanoff, VP of Crossroads.
Crossroads LED hopes that its new website, www.DMXFREE.org, will provide the LED lighting industry with the tools to discover how DMX FREE™ is the economical and technical solution for intelligent lighting control now and into the future.
CROSSROADS LED, LLC, located in Owasso, Oklahoma, is an electronic engineering and manufacturing company specializing in the solid-state lighting (LED) industry. The company provides innovative LED solutions to the amusement, entertainment, commercial and architectural lighting industries.
Contact
Buddy Stefanoff Crossroads LED, LLC Cell: 918-504-6595
E-mail:buddy@crossroadsled.com
Web Site:www.DMXFREE.org