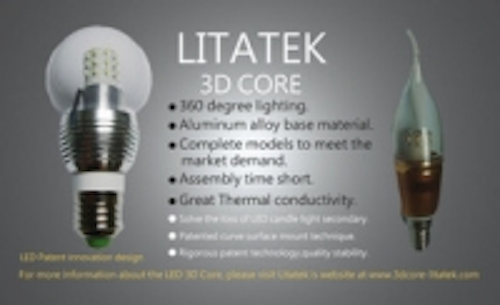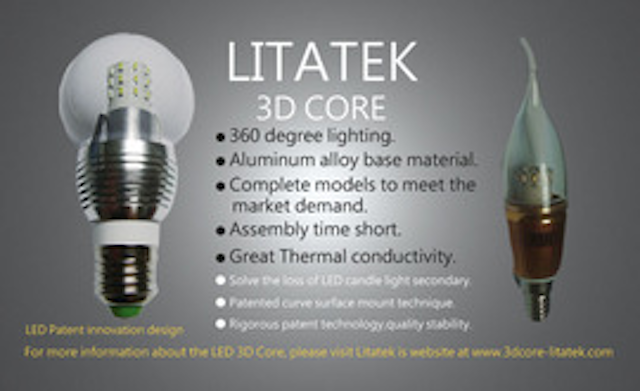 Date Announced: 07 Jan 2013
Litatek's innovations in the LED lighting industry have led the company to create a truly unique LED 3D Core for consumer lighting applications with the company's patented curve-surface electric circuit and mounting technique. As worldwide energy costs hit an all-time high, the need for technological innovation in efficient lighting systems is more important than ever. Litatek's 3D Core can emit light at 360 degrees, solving the common loss of light and half-moon (180 degree) lighting problem that LED lights in the current marketplace have. In addition, the highly efficient design of the 3D Core allows 100 lm of brightness per watt, so one Litatek 14W 3D Core can emit 1,400 Lm of light. Litatek's 3D Core can lower costs of production and provides up to 50,000 hours of light in an environmental friendly manner!
Litatek's innovative LED 3D Core will change the way consumer lighting products are produced. As the world adopts environmental friendly and more efficient lighting solutions, there will be greater demand for LED lights that provides more hours of lighting at lower or no environmental costs. Litatek's provides that solution to the world through its LED 3D Core.
【3D CORE feature】
1.360 degree lighting.
2.Solving the common loss of light.
3.Assembling with SMD-LED can match current all popular LED spec.
3D Core Product Characteristics and Operation Using
1.High Thermal Conductivity Materials & Innovative Adhesive Technique.
2.Special aluminum alloy base material for high thermal conductivity.
3.Patented direct curved surface forming circuit technique.
4.Patented SMD curved process with seamless adhesion.
5.Special scheme for LED arrangement for optimal heat distribution.
3dcore Superiority
1.Cylindrical assembly increases light space.
2.Light from top view and side view can be adjusted.
3.Number of assembly technology which makes uniform beam angle.
Contact
Ivy Lu Litatek Corporation 6F-5,No.6,Lane 609,Sec.5,Chung Hsing Rd.,Sanchung,New-taipei City,Taiwan TEL:886-2-2995-7038 FAX:886-2-2995-7058
E-mail:ivy@3dcore-litatek.com
Web Site:www.3dcore-litatek.com