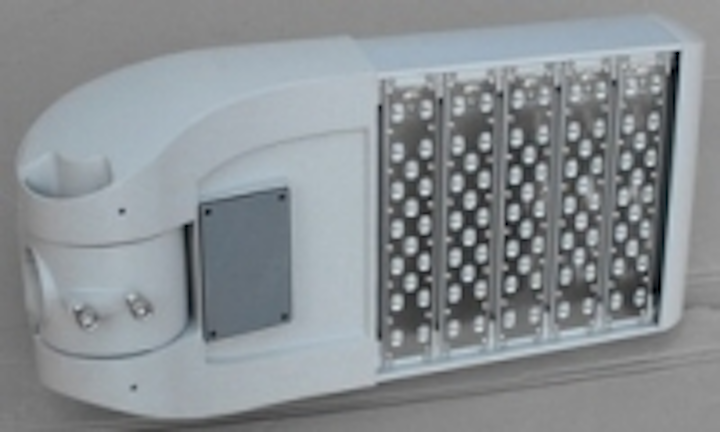 Date Announced: 18 Jan 2013
1. Innovative structure design, with 130°adjustable arm branch, module -style LED module, quick-fix LED module
2. Excellent heat dissipation system. Innovative heat dissipation method of the close connection between driver and casing, Great convective heat dissipation method from LED module.
3. International top Philip driver and CREE LEDs, ensure the stable performance. Ensuring the stable performance and high efficiency for the key components.
4. Intelligent control system with light sensor and the patented Radar Motion Fuction.
5. Mutual light distribution choice with at least five Lens style.
Product Detail:
Brand: Amberstar3
Item No. New module(AG-L series)
Wattage: 30W~300W
Fixture Light Effect: 98lm/W(UP T0 120lm/W)
Light distribution: Type I&II&III&IV&V
CRI: 75
IP Rate: IP66
Connector: WAGO
SPD: 10KV
Casing Material: Die-cast aluminum
Installation: Ceiling, hook ,hooked wire
Warranty: 5years
Control system: DALI/0-10V/Motion sensor/Photocell
Weight: Cut down 50% compare with old products.
Price: More competitive
Patent: China Patent, applicating International PCT
Certification: CEULCSA CUL under application.
Maintenance: Excellent
Others Excellent shape, high structure intensity, great IK08 rate, easy cleaning
The high advantage from the compares ion between Ambergreat LED street light and the other product on the performance, efficiency, price and structure.
Please feel free to contact us(www.ambergreat.com) Now!!!
Contact
Bran Marketing Department Ambergreat Electronics Pte Ltd Singapore 258 Boonlay Dr#06-513 Singapore 640258 Tel: 0065-68982180 0065-67913539 Fax: 0065-63382898
E-mail:sales@ambergreat.com
Web Site:www.ambergreat.com