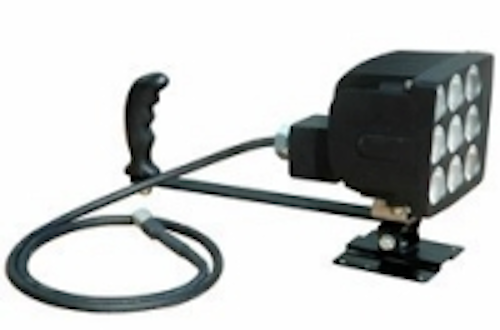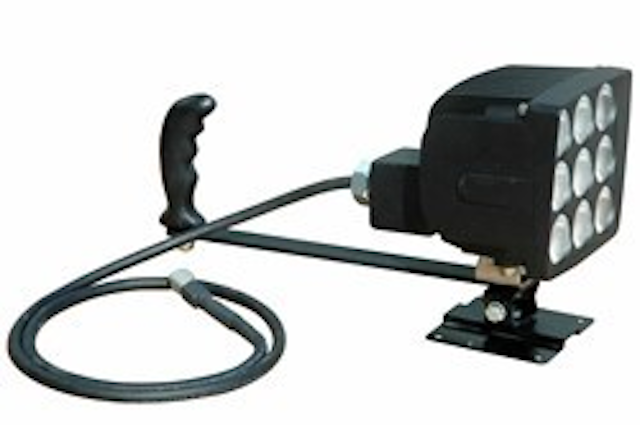 Date Announced: 06 Aug 2013
Larson Electronics has announced the release of an LED spotlight that provides intense light output and heavy duty operation combined with a versatile adjustable base and control handle assembly. The PML-90LED-SW 90 Watt LED Spotlight features heavy duty waterproof construction and a permanent mount base fitted with tension hinges and control handle that provides secure mounting and full adjustability.
Kemp, TX - The Larson Electronics PML-90LED-SW permanent mount LED spotlight is a powerful and rugged unit that provides the unparalleled performance of LED technology in an easy to operate design. This high intensity LED spotlight is designed for extreme conditions with a heavy duty aluminum housing fitted with polycarbonate lenses, steel mounting plate, and a tensioned hinge assembly with solid polycarbonate handle. Rated IP68 waterproof to three meters of submersion, this LED spotlight can handle driving rain, dusty offroad use, and high humidity without any of the problems caused by corrosion or rust. The LED assembly consists of nine 10 watt Seoul Z-Power LEDs matched to high quality optics to produce a powerful 8,100 lumen light beam capable of reaching over 2,100 feet in length. The light output from this spotlight is intense and bright white, with none of the yellowing or beam distortion commonly associated with halogen spotlights. This light provides this performance while drawing only 90 watts at 7.5 amps from a 12 volt electrical system, making it ideal for use in military, law enforcement, and security applications as well as on boats and offroad vehicles. The mounting base assembly consists of a rugged steel plate that has been predrilled for easy installation and a set of tough tension hinges that hold the light in position without the need to loosen or tighten any lock screws. Users can move the light through a full range of motion using the solid polycarbonate handle and the tension hinges will automatically hold the light aimed in last position it was placed in. The LED assembly in this light has a 50,000 hour operational life for years of reliable service, and includes a heavy duty wiring harness with Deutsch Connector for secure connection to any source of 9 to 50 VDC electrical power. This high power spotlight is ideal for operators who need high reliability and powerful output in a unit capable of withstanding the most demanding operating conditions.
"This 90 watt LED light is our most popular LED light, due to it range and power, so it makes an ideal component to this for a mounted searchlight application," said Rob Bresnahan with Larson Electronics' LarsonElectronics.com. "The PML-LED90-SW is applicable for standard voltages ranging from low voltage applications ranging from 9V DC to 42V DC and features an on/off switch at the back of the light, which makes it extremely versatile. With 50,000 life hours, unprecedented vibration resistance and high power light output, soldiers, boat operators and high end sportsman will find application for this LED light."
Larson Electronics manufactures an extensive line of military spotlights, boat spotlights, infrared LED lights, LED spotlights, and portable LED work lights. You can view Larson Electronics' entire line of industrial grade lighting equipment by visiting them on the web at LarsonElectronics.com. Larson Electronics can also be reached directly by calling toll free, 1-800-369-6671 or 1-214-616-6180 for international inquiries.
Contact
Rob Bresnahan, Larson Electronics 800-369-6671
E-mail:sales@magnalight.com
Web Site:www.larsonelectronics.com