Solid Apollo releases LED grow lights for boosting indoor garden growth while using up to 70% less energy.
Aug 28th, 2013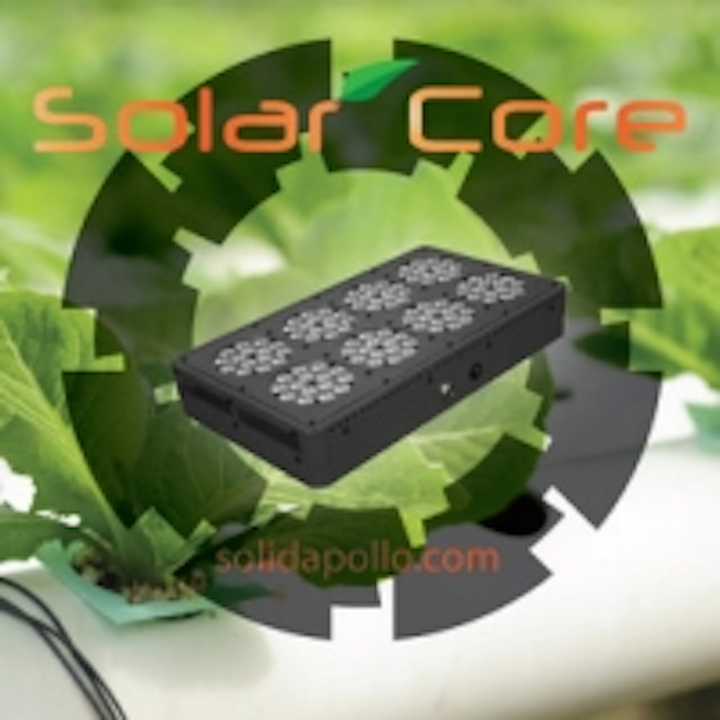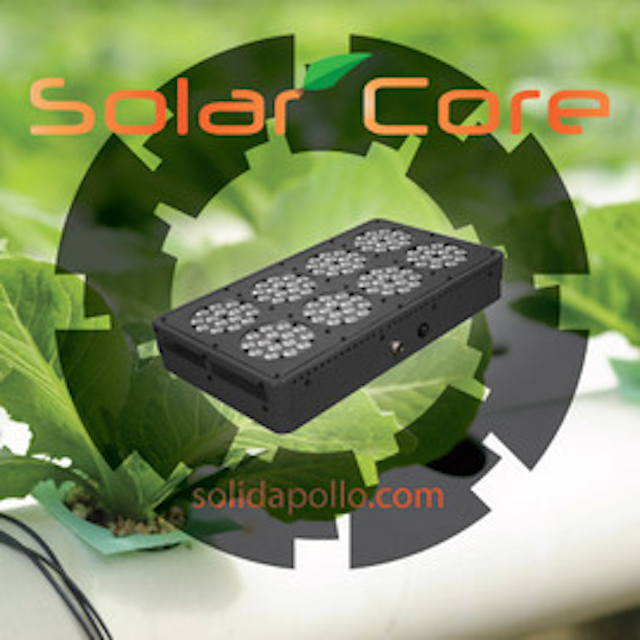 Date Announced: 28 Aug 2013
Solid Apollo has introducing a new set of high-performance grow lights for an array of indoor gardening applications. The longtime seller of LED lighting solutions has introduced the Solar Core Family LED Grow lights. These low profile, whisper-quiet, and high output set of three LED grow lights models are completely modular, long-lasting lights which can tackle simple indoor gardening solutions to larger hydroponic and aeroponics operations. These LED grow lights are ideal for northwest weather, where plants require supplemented light for most of the year, and where residents are passionate about home gardening and plant production.
LED grow lights are a perfect solution for growing indoor plants. Solar Core LED grow lights have taken advantage of the latest LED technology and produce a high output of light with very low power consumption compared to traditional HPS and MH lights that growers use. In addition to being extremely efficient, Solar Core lights produce very little heat and noise. There is no need for bulky head dissipation, or noise shields with any of the three grow lights Solid Apollo has introduced.
The three unique grow light models which are available are the Ares, Midas and Titan models, each with their specific range and uses. The Ares 4-Lamp Model is a versatile and modular designed grow light for smaller applications with the possibility of a grid arrangement. The Midas is an 8-lamp grow light perfect balance of space saving LED technology and power output while the ten-lamp Titan model has the largest coverage and highest output. The Titan is the perfect solution for growing a large amount of healthy plants at a very fast rate.
Cole Johnstone, marketing specialist at Solid Apollo LED commented "We here at Solid Apollo are truly excited to be offering three unique and custom solutions for indoor growers and gardeners. The Solar Core lights are fine-tuned to allow better growth, larger leaves, and faster flowering for flowering plants and larger fruit for fruits and vegetables."
All three lights have a full spectrum output of warm white, far red, red, red-orange, teal and blue light wavelengths that provide your flowering plants with the perfect blend of light. Our fine-tuned spectrum emphasizes a perfect red-blue blend (7:3) that plants can utilize to grow both tall and strong (primary growth) and expand broad, leafy foliage for optimum yield. Traditional MH and HPS lights provide sparse and unbalanced lighting that lack certain wavelengths of light that flower plants need to produce a good yield.
Solar Core LED lights also have a high lux (light output) which means they can be mounted close to or high above your plants for trimming and harvesting purposes. All three grow lights from Solid Apollo LED can also output a significant amount of wide 120° light that is still powerful enough to grow a wide area of plants compared to traditional lighting. Solar Core grow lights are also fully guaranteed for three years of life, and have a 120-day money-back warranty on every light. Discounts for larger systems are available as well.
Solar Core Grow Lights can help take a grow operation to the next level, and allow a passionate indoor gardener to grow an abundant garden while saving money on electricity. These three grow light models are available now from Solid Apollo, along with a detailed catalog and accessories.
Contact
Cole Johnstone 425-582-7533
E-mail:cole@solidapollo.com
Web Site:www.solidapollo.com