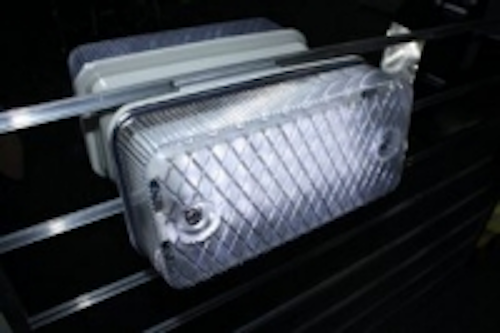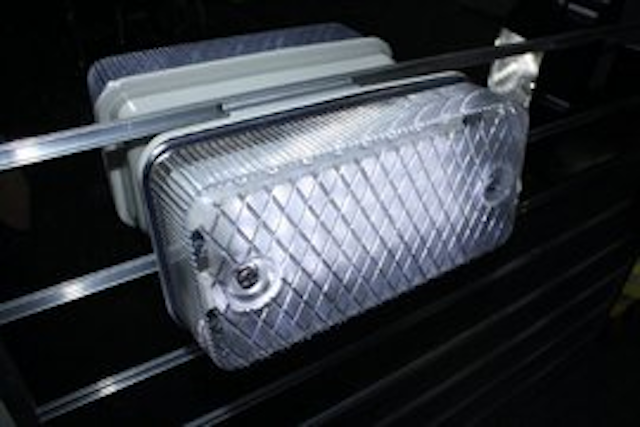 Date Announced: 15 Aug 2013
Ulverston, UK. Marl International today announced that it has upgraded its bulkhead light range, widely used as bright, low energy security lighting on construction and industrial sites, with new LED technology which gives a much wider spread of light. Marl has also increased the range of colours available.
Offering outstanding reliability and optical performance, the popular Marl 084 Series of bulkhead lights provides an 80% energy saving compared with a standard 100W bulb. With a rated 60,000 hour service life, the lamps will last for almost seven years continuous use. Each lamp uses 44 individual LED die, to provide the very high brightness required, and each of these has now been upgraded to the latest surface mount LED products, to give a much wider spread of light. The new lights now have a viewing angle of up to 120 degrees, allowing fewer lights to be used to illuminate the same area.
Specifically designed for tough, outdoor environments, Marl 084 Series bulkhead lamps are exceptionally well protected. They are constructed with a rugged polycarbonate mounted on a metal base and can operate at temperatures between -40°C to +110°C.
Marl 084 Series bulkhead lights are offered in cool white, for security, task and obstruction lighting, as well as in amber, blue, red and green versions for use as markers for example as port and starboard lights in marine applications. For the rail industry, a version with a Railtrack Approval Certificate No: PA05/898 is available.
About Marl International:
Marl International has specialised in the design and manufacture of visible LED indication and illumination components and systems for 40 years. As UK distributor for Citizen, Lighting Science, Bivar and a hub of a pro-actively managed international supply chains, Marl has unique access to some of the best Solid State Lighting and Electronics technology in the world. It integrates these technologies into energy efficient lighting and indication solutions. Marl International has world class design and manufacturing facilities, staffed by over 100 highly trained and experienced specialists operating from a single site on a dedicated technology park in Ulverston, England. As a unified team, they offer agility, speed, flexibility, and willingness to respond to both needs and expectations as projects evolve and mature through the entire product life cycle. Marl partners with leaders in Defence, Aerospace, Entertainment, Transportation, and Lighting industries in the UK, Europe, North America, and Asia.
Marl is a quality company. It is registered to BS EN ISO 9001:2008 standard and fully RoHS and WEEE compliant.
Contact
Marl International Limited +44-(0)1229-582430
E-mail:marketing@marl.co.uk
Web Site:www.leds.co.uk