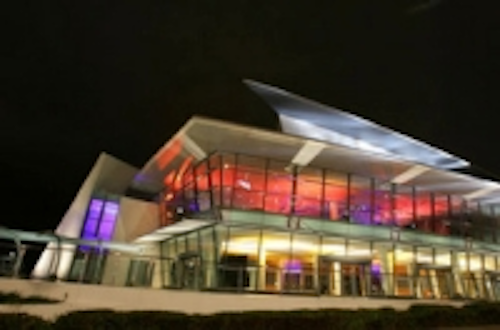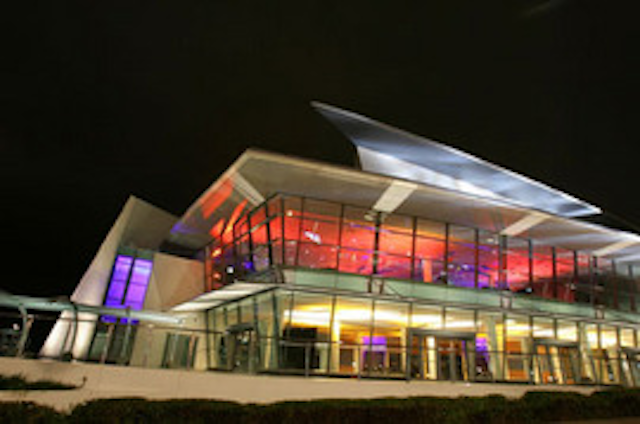 Date Announced: 26 Aug 2013
Over 500 Anolis LED fixtures have been installed by The ULA Group at the Gold Coast Convention and Exhibition Centre (GCCEC), Australia, as part of the venue's continuing investment in sustainable and energy efficient lighting.
The latest power-saving Anolis ArcLine and ArcSource full colour spectrum units illuminate the foyer and corridor areas of the venue, which is Australia's largest regional convention center. It specializes in all types of events from small meetings to large-scale presentations, accommodating up to 6,000 guests and offering over 10,000 square metres of floor space for conferences, exhibitions, awards shows and banquets, etc.
The GCCEC's decision to invest in the latest Anolis follows the highly successful Stage One supply of Anolis LED Lighting fixture to the common foyer and function areas, also completed by The ULA Group.
Incorporating new mood lighting schemes for the venue, ULA's architectural lighting specialist Blair Terrace worked closely with the Centre's Audio Visual Manager to deliver the best and most appropriate LED lighting solutions.
The lighting needed to be both functional and adaptive to the demands of the high ceilinged foyer space and also meet other potential client requirements, whilst working in conjunction with existing lighting structures to produce the correct lux levels and stipulated energy ratings.
The agreed perfect choice that ticked all of these boxes was Anolis's ArcSource 24MC (21 degrees) multichip fixture with AR1-11 housing.
Additional ArcLine 20 and 40MC fixtures were installed on the opposite walls of the same area to complement the mood lighting in the foyer.
Anolis ArcSource 3 & ArcSource 6 RGB fixtures were chosen as the best fittings for installation at the other end of the foyer and throughout the corridors.
An impressive 350 units of these are installed creating a vibrant, airy atmosphere for visitors... and a beautiful ambient glow to the venue which can be seen through its floor to ceiling glass walls for many miles.
Anolis ArcPower drivers are used to control all the new Anolis fixtures, bringing flexibility to event planners, enabling them to have the lighting they require without affecting set-up times.
Blair Terrace comments, "We were excited that Anolis was again the brand of choice for the second stage of this lighting project. It follows on and fits perfectly with the previous upgrade".
One of the first meeting facilities in Australia to achieve internationally recognized EarthCheck Silver Certification, the GCCEC has been very proactive in reducing waste and consumption of resources, including power, in efforts to contain rising costs.
The Stage One lighting upgrade saw the installation of external and stair tread LED lights cut electricity usage from 18W to 3W per unit!
Additionally, the replacement of all the external lights to more efficient models resulted in a dramatic reduction in electricity usage of nearly 50% - from 85W to 48W.
GCCEC's general manager Adrienne Readings states that the Centre is committed to operating at the world's highest environmental standards. "We have implemented many initiatives to reduce costs and lower our carbon footprint, and are continually looking for ways to enhance our operational practices. This includes partnering with clients and suppliers to ensure sustainability is achieved through positive choices and practices."
In 2013, the Centre is eligible for Gold status indicating five years of continual commitment to benchmark sustainable operations and a certification from EarthCheck.
Cuono Biviano, managing director of The ULA Group said, "Congratulations to the team at the GCCEC for receiving this prestigious EarthCheck Silver Certification, and for choosing Anolis for its LED lighting solutions.
"Anolis prides itself as a world leader in advanced LED Lighting technology and in being the most energy efficient product solution in its class. The results at GCCEC are visually spectacular and prove that you can literally 'paint with light', creating an amazing atmosphere whatever the requirements.
"I thank GCCEC for their long association with ULA and look forward to the continuing relationship... and many future possibilities."
Contact
Louise Stickland +44-(0)1865-202679
E-mail:louise@loosplat.com
Web Site:www.anolis.eu