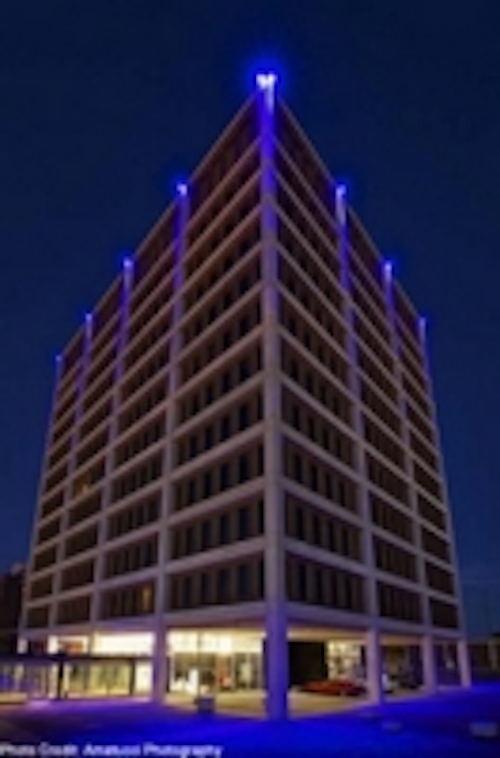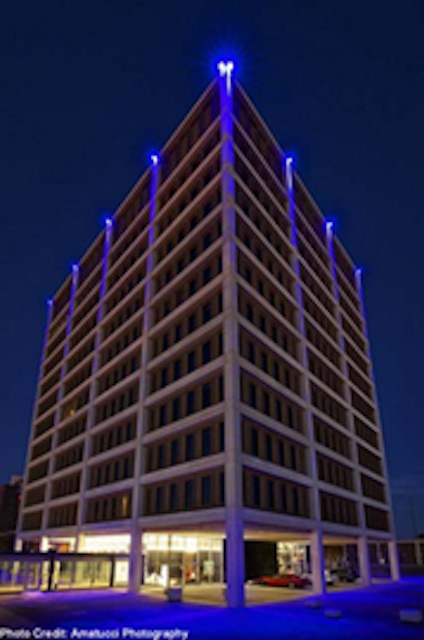 Date Announced: 02 Aug 2013
TULSA, OK – Constructed in 1969, the old City Hall building in downtown Tulsa, Oklahoma had sat vacant for many years. Many residents and city officials wanted it torn down, but thanks to the vision of Starwood Hotels & Resorts Worldwide Inc. and developer TOCH LLC, the 11-story structure has been given new life as the Aloft Tulsa Downtown Hotel.
Not only is this once-destined-for-the-wrecking-ball site now a thriving 180-room hotel that caters to urban, tech-savvy travelers, it has actually become a defining landmark in the city's skyscape. This is in large part due to the Elation Professional Level Q7 IP LED pars that encircle its roof, changing colors and sending washes of light down its columns, creating a nightly visual display that has become a rainbow-like beacon for locals and visitors alike.
The Level Q7 IP lights were installed on the building's exterior by Omni Lighting Sales & Service (Tulsa, OK). Rated at IP65, the Level Q7s are rugged enough to withstand outdoor conditions, and with the power of 7 x 15W Quad Color RGBW LEDs, these compact pars provide ultra-smooth color mixing and impressive brightness.
So impressive are the Level Q7s that they've become nothing short of "media stars," recognizable to thousands of Tulsa TV viewers. "The building shows up on the nightly news every evening," explained Kevin Martin of Omni Lighting Sales & Service. "They have a camera permanently pointed at the downtown skyline. When they do the weather, they cut to a night shot of the skyline, and the Elation pars show up very nicely."
With their high performance, low maintenance (100,000 hour rated LED life) and energy efficiency, the Level Q7 IPs have proven to be a perfect fit for Starwood's unique Aloft concept. The Aloft brand focuses exclusively on adaptive re-use projects, in which abandoned historic sites are "re-cycled" into one-of-a-kind hotels that retain much of the distinctive charm of the original structure, while offering guests the latest amenities and technology. Illuminating this mid-century municipal building with Elation LEDs gave its exterior an instant update, without altering the many time-honored features that have given it historic preservation status.
Contact
Elation Professional Toll-free: 866-245-6726 Omni Lighting Sales and Service can be reached at 918-583-6464 or visit www.omnilighting.com
E-mail:abby@fucinipro.com
Web Site:www.elationlighting.com