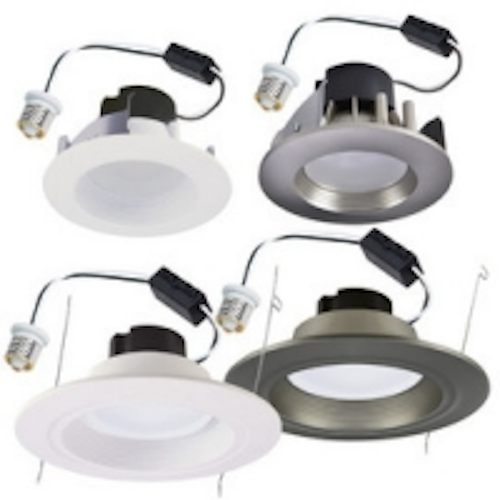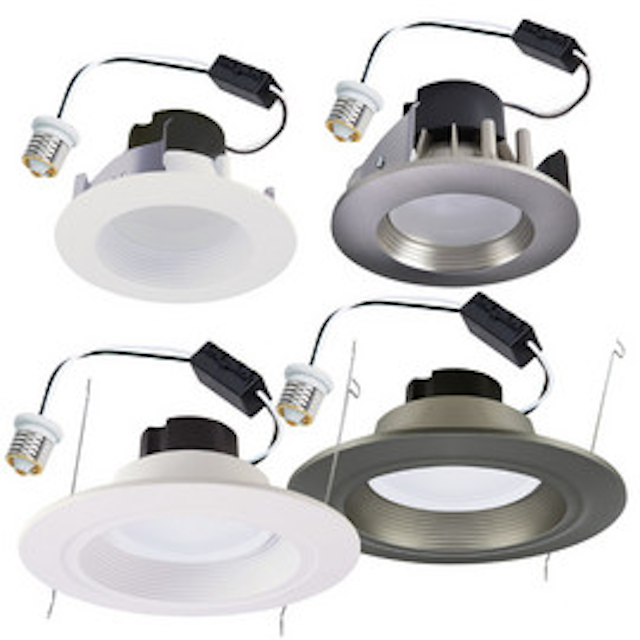 Date Announced: 21 Aug 2013
PEACHTREE CITY, Ga. - Eaton's Cooper Lighting division has added new models to its Halo light-emitting diode (LED) RL46 and RL56 retrofit families, providing customers with a wider selection of color options to satisfy more lighting design needs. Both product lines now offer a 3500 Kelvin (K) correlated color temperature (CCT) option and for the first time and offer select models with a 90 (minimum) color rendering index (CRI). The fixtures can provide up to $400 in energy and maintenance (lamp replacement) savings over the life of the fixture and are expected to last 22 years (based on six hours daily use at $0.11 per kilowatt hour).
"Upgrading to our new Halo LED fixtures allows end users to take advantage of increased energy savings, reduced maintenance and the long life associated with LED products," said Mark Eubanks, president, Eaton's Cooper Lighting division. "And, since the fixtures are available in a wide range of options and finishes, they are an ideal solution for both commercial and residential applications."
Suitable for new construction, remodel and retrofit installations, the all-in-one recessed baffle trim products feature an integrated LED module with a convex lens that provides uniform illumination. The Halo RL46 LED Retrofit Baffle Trim is designed to fit into 4-inch housings and the Halo LED RL56 Retrofit Baffle Trim is designed to fit into both 5-inch and 6-inch housings by Halo, All-Pro and other compatible housings.
Both families offer select models available in nominal 2700K, 3000K and 3500K CCT and 80 or 90 CRI, delivering more than 600 lumens. The RL46 series consumes 10.5 watts while the RL56 series consumes 9.4 or 10.5 watts, depending on the selected model. All the products are designed to deliver a long life of 50,000 hours and feature an integral LED driver offering 120-volt dimming capability. Both families are available in either Matte White or popular designer Satin Nickel finishing.
The LED baffle trims feature easy installation with included adapter and torsion springs or optional friction blades.
In addition, the fixtures feature die-cast construction, making any housing AIR-TITE™ for added heating, ventilation and air conditioning (HVAC) savings and code compliance. ENERGY-STAR® qualified for both commercial and residential applications, the fixtures are wet and damp location listed (protected ceilings), Restriction of Hazardous Substances Directive (RoHS) compliant and can be used for International Energy Conservation Code (IECC), Washington State Energy Code (WSEC) and California Title 24 High Efficacy compliance with designated LED housings.
For more information on the Halo LED downlighting products, visit www.cooperlighting.com.
Eaton's Cooper Lighting division continues to empower its customers with the innovations, technology and resources needed to meet the challenges of the future. Eaton's Cooper Lighting division delivers a wide range of innovative and reliable lighting, LED and controls solutions, all specifically designed to maximize performance, energy efficiency and cost savings.
Cooper Lighting is part of the electrical business of Eaton. Eaton acquired Cooper Industries plc in late 2012. Cooper Lighting provides world-class lighting, LED and controls solutions to commercial, industrial, retail, institutional, residential and utility markets. Cooper Lighting is committed to helping businesses and communities leverage the latest technologies to improve energy efficiency, reduce costs and enrich the quality of the environment. Cooper Lighting. Innovation you can rely on™. For information about Eaton, visit www.eaton.com.
Contact
Karin Martin 630-513-8625
E-mail:karin.martin@cooperindustries.com
Web Site:www.cooperlighting.com