Hubbell Lighting upgrades popular floodlight and wall sconce products to LED
Aug 7th, 2013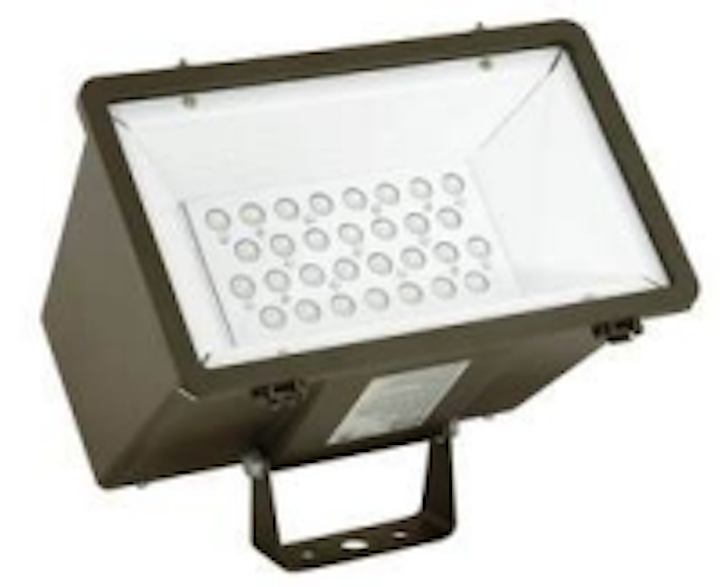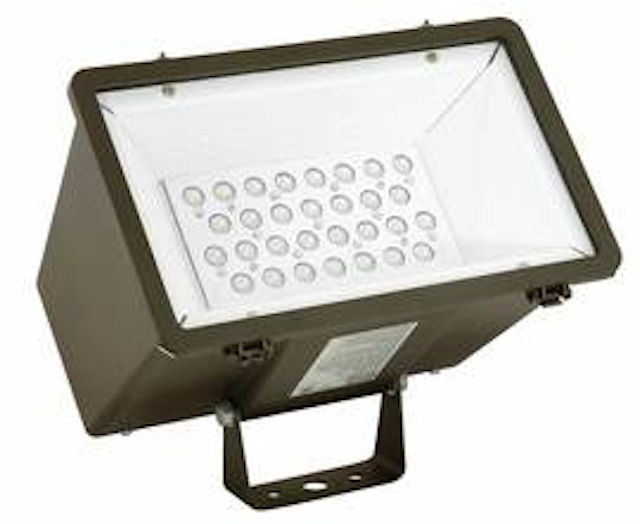 Date Announced: 07 Aug 2013
Greenville, SC – Hubbell Lighting, a world leader in lighting innovation, announced two new high-performance LED outdoor lighting solutions — Hubbell Outdoor Lighting's LED Miniliter® MHS LED Floodlight and LED Geometric Wall Sconce family. Making a good thing even better, the company has taken two of its popular selling products and dramatically increased the efficiency and performance of them by upgrading the light sources to LED.
Based on the proven design of its popular HID floodlight, Hubbell Outdoor Lighting's new Miniliter® MHS LED floodlight features multiple beam patterns and color temperatures; two mounting options; and a rugged, yet refined, die-cast aluminum construction. The powerful 30 LED floodlight has 87-97 lumens per watt with up to 6800 lumens and is universal voltage (120-277V). Simplifying installation and design integration, the floodlight features tool-free entry and yoke or knuckle mount options; comes in five finishes: dark bronze, black, gray, white, and platinum; and is UL listed for use in wet locations.
Hubbell Outdoor Lighting has also reduced the price of its popular LED Geometric Wall Sconce family and dramatically improved the output, uniformity and efficiency; making them a win-win for outdoor building illumination. The trapezoid, radius trapezoid, quarter sphere, and radius sconces have 70 lumens per watt with 2500 lumens at 4700K; can be mounted up to 15ft mounting heights; are zero uplight (U0) and Dark Skies compliant, and have universal voltage (120-277V). Easy to install and seamlessly integrate, the sconces have a mounting adapter plate and integral bubble level for easy installation; come in five finishes: dark bronze, black, gray, white, and platinum; and are UL listed for use in wet locations.
For more information on Hubbell Outdoor Lighting's products, visit www.hubbelloutdoor.com.
About Hubbell Lighting
Hubbell Lighting is one of the largest lighting fixture manufacturers in North America. The company provides a full range of indoor and outdoor lighting products serving the commercial, industrial, institutional, and residential markets. Hubbell Lighting brands include Alera Lighting, Architectural Area Lighting, Beacon Products, Columbia Lighting, Compass Products, Devine Lighting, Dual-Lite, HomeStyle Lighting, Hubbell Building Automation, Hubbell Industrial Lighting, Hubbell Outdoor Lighting, Kim Lighting, Kurt Versen, Prescolite, Progress Lighting, Security Lighting, Spaulding Lighting, Sportsliter Solutions, Sterner Lighting Systems, Thomasville Lighting, and Whiteway. Hubbell Lighting: one name, distinctive brands, limitless lighting possibilities. For additional information, please visit www.hubbelllighting.com and follow Hubbell Lighting on Twitter and Facebook.
Contact
Andy Beck, Makovsky 202-288-6862
E-mail:abeck@makovsky.com
Web Site:www.hubbelloutdoor.com