purEco high bays achieve up to 80% reduction in energy consumption with motion and daylight controls
Aug 2nd, 2013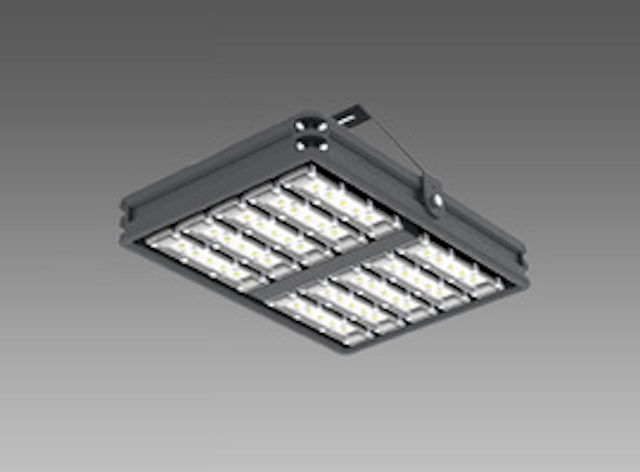 Date Announced: 02 Aug 2013
Light, efficient and reliable! The new industrial lighting fixture (LED Highbay) of purEco LED AG impresses with an efficacy of at least 100 lm/W and a luminous flux of up to 45'000lm per fixture. Thanks to the flexible mounting bracket and the various optics, these lights are the perfect choice for all applications. The long lifetime (> 60'000h) and power savings of 50-70% compared to conventional lighting ensures the necessary efficiency. Our clients achieve an average ROI (payback) within 2-3 years. The standard warranty is 5 years on all products.
The recently introduced new LED Highbay family PEH7 and PEH8 convince by a number of significant improvements. The weight per fixture could be reduced by about 30% in the PEH7 series. The model PEH7540 weighs only 6 kg at an impressive 150 W LED power output. Moreover, the mounting of the light could be improved due to its flexible mounting bracket. Therefore, any installation, whether it is at a ceiling or as a floodlight, is very easy (adjustable angle). Technically, the new highbay are using the new Philips LUXEON M LED chip with an efficiency of about 100lm /W (luminaire efficiency). Thanks to the IP65 protection and the different lenses (wide, medium, narrow and high-rack), these LED highbays can be used for all kinds of applications, whether it's a wide area or extreme heights. The new PIR sensor or wire suspension kit guarantee for the necessary flexibility and is optionally available for all LED highbays. By high switching frequencies (using motion or daylight control), we achieve up to 80% energy savings compared to conventional lighting. In return for high quality and best components, the lifetime of over 60,000 hours can be guaranteed. For example, Philips LED chips and drivers are used within all LED high bays (Xitanium industry standard drivers with >100'000h life time).
Already satisfied customers of purEco LED AG are: RUAG, Arma Suisse, Emmi, Heineken, Johnson & Johnson, Mercedes Benz, Migros, OKB, various municipalities, etc.
The purEco LED AG offers its customers lighting simulations, demonstrations and testings, products and investment calculations. Thus, the optimal product for the desired application can be determined. Ask us without obligation and get in touch with us!
Contact
purEco LED AG
E-mail:contact@pureco-led.com
Web Site:www.pureco-led.com