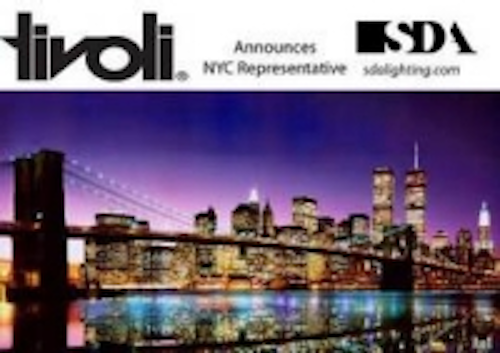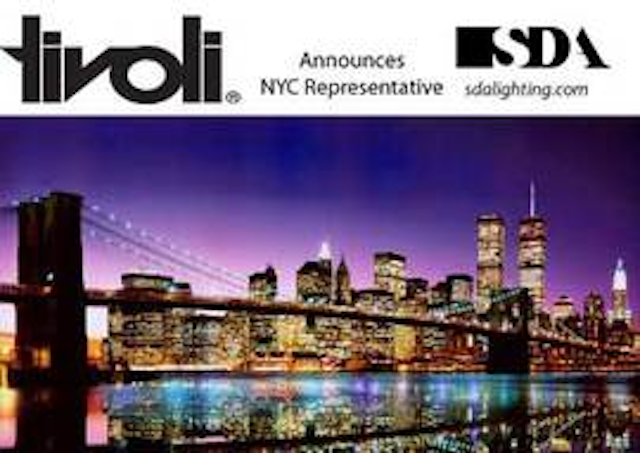 Date Announced: 08 Aug 2013
SDA, a leading New York-based specification and architectural lighting sales agency, will represent LED innovator --Tivoli, LLC.
TUSTIN, CA – Tivoli, LLC. CEO, Marie Paris has announced the appointment of a new Tivoli Lighting commercial account sales firm in the East. Stan Deutsch & Associates (SDA), based in Long Island City, NY, will handle commercial sales in New York City, Long Island, Westchester and Rockland territory. SDA who recently celebrated its 50th year of service to the lighting community will represent Tivoli, LLC -- the original innovator of LED based linear lighting products with over 45 years of experience in low voltage and LED based linear lighting products.
"Our new affiliation with SDA will boost Tivoli's presence in this fast-growing territory, especially with our latest product releases such as our award winning Coveline 120™ and showcase our strength in linear LED solutions and our Tivoli Colormix™ capabilities," said Paris. "This year we have a number of new LED fixtures introductions for both exterior and interior applications for the architectural and specifer market. With the support and expertise of SDA, we will be enhancing existing relationships and forging new ones with lighting designers and specifiers in their New York-based territory as they are made aware of the depth and versatility of Tivoli's architectural LED lighting product offering."
Among Tivoli's many LED products are the award-winning Coveline 120™ Series, Covelum Design Series™, Illumiline™, TivoTape™ and a many other solutions for cove, step lighting, under-cabinet, retail, and niche lighting applications. As a leading manufacturer in LED systems, Tivoli, LLC utilizes an industry leading quality control process that improves color consistency and LED yields. Tivoli T-Bin™ is exclusive to Tivoli, LLC and involves an additional sub-binning process that delivers LEDs targeted and packaged in custom bins that are within a 2-step MacAdam Ellipse. ANSI standards reflect a "4-step" ellipse as the industry recommendation giving lamp manufacturers a fairly wide range of perceptible differences of the target point on the CIE diagram. Tivoli T-Bin™ guidelines indicate that our products identified as T-Bin™ will stay within a "2-step" ellipse providing our customers with ideal color consistency, color matching and state-of-the- art quality control.
ABOUT TIVOLI
Tivoli is the original innovator in LED based linear lighting products, with over 45 years of experience in low voltage and LED based linear lighting products.
When Color Matters --Tivoli is the choice.
Uniquely focused on 'the right light' – color temperature and output for low ambient cove and niche applications.
Most other commercial manufacturers in the US are focused on higher output LED illumination. Tivoli is focused on low wattage, highly energy-efficient, linear LED fixtures for accent cove and niche lighting applications. We specialize in small source applications that create the sparkle to delineate a project.
Using our expertise with color mixing LEDs, we have created incandescent color equivalents and even improvement to incandescent using LED color mixes.
As the market leader in emerging LED linear lighting, we offer a complete line of architectural and auditorium linear LED based lighting products. Our products are flexible, adaptable energy-saving LED-based linear lighting products for broad architectural / commercial applications, both indoors and out. Tivoli's architecturally significant designs have been providing visible delineation or concealed illumination effects for over forty five years.
Lighting is our business, color is our concern.
Contact
Stan Deutsch Associates, info@sdalighting.com
E-mail:press@cfwevents.com
Web Site:www.tivolilighting.com