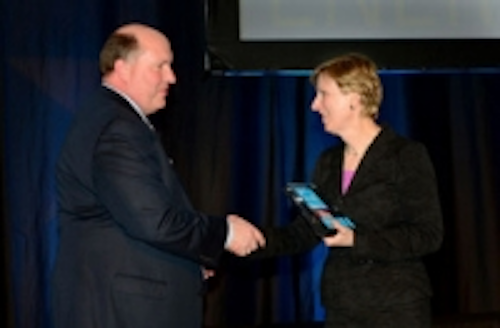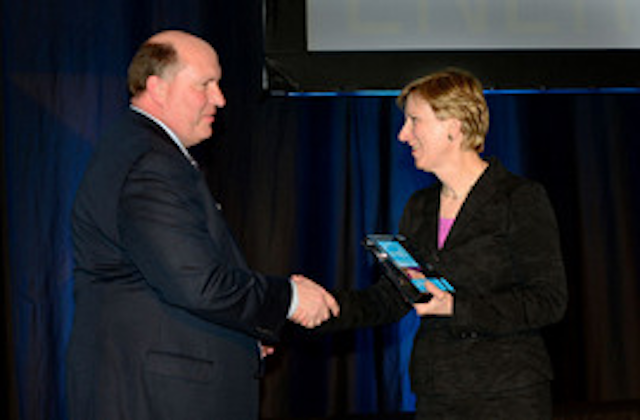 Date Announced: 28 Mar 2013
EAST CLEVELAND, Ohio--(BUSINESS WIRE)--(NYSE:GE) – For the eighth straight year – a longer run than any other lighting manufacturer – GE Lighting has been recognized with the U.S. Environmental Protection Agency's ENERGY STAR® Partner of the Year - Sustained Excellence Award. This award acknowledges outstanding contributions to protecting the environment through energy efficiency.
GE Lighting's Steve Briggs, global product general manager, accepted the award Tuesday at a ceremony in Washington, D.C.
"Energy efficiency is what drives our innovation and development at GE, and the ENERGY STAR program is one that we continue to embrace in the evolution of lighting," says Briggs. "To have been recognized eight years in a row and achieve a run of wins other manufacturers haven't been able to record speaks volumes to our commitment to advance energy-efficient light bulbs consumers will embrace."
GE Lighting was recognized for its support of the ENERGY STAR program through a variety of initiatives, including an extensive ENERGY STAR-qualified product portfolio and continuous support of ENERGY STAR and the GE ecomaginationSM program, the company's commitment to solving energy challenges.
GE Lighting offered ENERGY STAR-qualified bulbs in a total of 607 consumer packaged options in 2012, including 198 ENERGY STAR-qualified LED packages.
Visit www.gelighting.com to learn more about GE Lighting's commitment to the ENERGY STAR program. To learn more about GE's commitment to innovative solutions to today's environmental challenges while driving economic growth, visit www.ecomagination.com.
About GE Lighting
GE Lighting invents with the vigor of its founder Thomas Edison to develop energy-efficient solutions that change the way people light their world in commercial, industrial, municipal and residential settings. The business employs about 15,000 people in more than 100 countries, and sells products under the Reveal® and Energy Smart® consumer brands, and Evolve™, GTx™, Immersion™, Infusion™, Lumination™, Albeo™ and Tetra® commercial brands, all trademarks of GE. General Electric (NYSE: GE) works on things that matter to build a world that works better. For more information, visit www.gelighting.com.
Contact
800-GE-LAMPS
Web Site:www.gelighting.com