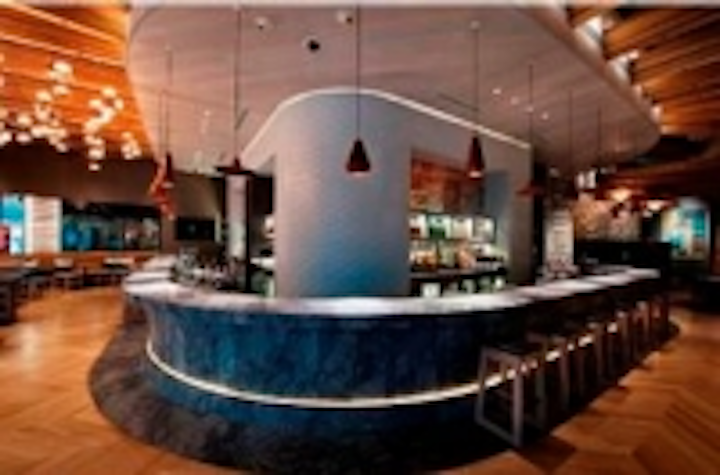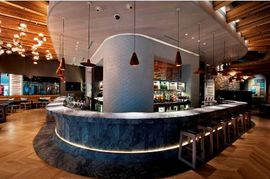 Date Announced: 15 Mar 2013
Mark Elliott, director of POV, announces the lighting of Jimbo & Rex, a Pub Bar with a difference, which opened at the Crown Casino complex, Melbourne, Australia, in November 2012.
Jimbo & Rex is a redevelopment of an existing pub, with new interiors designed by Mim Design for Crown. Located close to the new West-end gaming area and cinema complex, the ambiance needed to be inviting and accessible for all kinds of visitors.
The decorative lighting design style takes its cue from Miriam Fanning's interior design, characterised by the use of natural materials such as wood, stone, ceramic tiles, cotton canvas and copper. A neutral palette of finishes with pale materials such as grey marble and washed timber contribute to a neutral palette of finishes. Accents of darker timbers echo structural support beams, and copper is also used as an accent material in walls and window framings.
The feature lighting by POV includes bespoke contemporary chandeliers made of glass and copper, and being able to see the light source in this way gives the lighting a traditional feel. Mirror finishes around the bar and seating areas reflect light throughout the space, adding sparkle and glow. Custom pendants above the boomerang-shaped bar and in the dining area were created with a copper finish, to complement copper accents elsewhere in the interior.
Concealed lighting is used to illuminates vertical surfaces; a choice was made to wash the light to increase brightness in the space without the use of excessive ambient lighting. Other vertical surfaces such as bottle displays and artworks are accented either by integral lighting or concealed customized spotlights. Other features that are accent lit include porcelain plates, trees, pot plants and a double height art wall made out of recycled timber. Allowing contrasts was important for the display of these elements.
"The client wanted the new venue to retain the relaxed atmosphere of a pub, but to offer a fresh take on casual dining, late night bar and weekend snack service," said Sara McClintock, senior lighting designer at POV.
Linked to one of the main interior promenades in Crown complex, Jimbo & Rex opens up visually to a brightly lit walkway through a full height window. The bar of Jimbo & Rex is visible through the window to visitors walking through the complex. One of the main lighting challenges was to compete visually with the light which penetrates from the promenade while at the same time allow a comfortable ambient level within the bar and restaurant.
It was important that the venue displayed a comfortable and open environment. Lighting levels needed to create an inviting and family-friendly setting for lunch and dinner.
Lighting suppliers
Decorative - Ricardo Lighting, Roll & Hill
Architectural - Masson Lighting, Inlite, ECC, Litesource
Contact
Jenny Hall + 44 208 299 2546
E-mail:jenny@claudecomms.com
Web Site:www.pov.com.au/