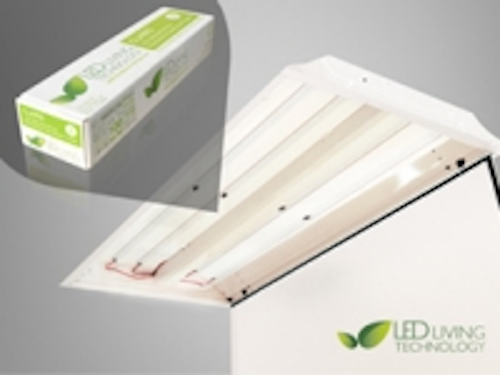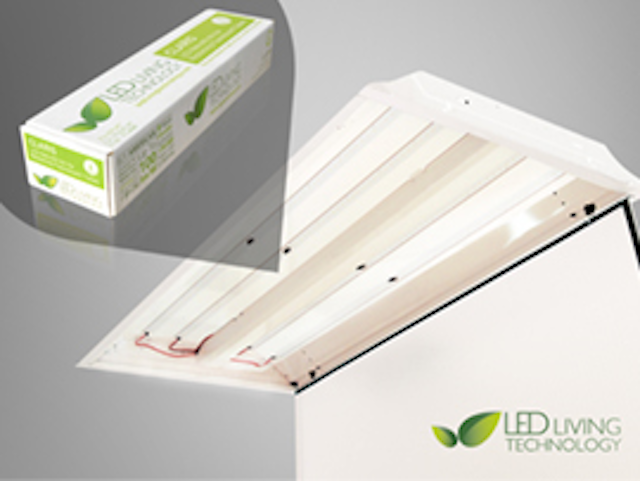 Date Announced: 29 Mar 2013
When you think LED T8, and T12 replacements you see a familiar tube shape paired with an LED array, and if you are a distributor or electrical contractor, you are all too familiar with the pitfalls of this marriage between fluorescent and LED technologies--high capital cost, light output levels that fall below acceptable standards, and in the worst case scenario: burnouts due to poor thermal management, electrical incompatibilities, or both.
LED Living Technology, a Buy American compliant manufacturer located on the outskirts of Philadelphia, PA features a market changing fluorescent-replacement technology in its Claris LED Retrofit kit. The retrofit kit features a fresh LED approach to T8 and T12 replacement without the all too familiar shortcomings of the LED tube -- which is why the technique is dubbed Think Outside The Tube Technology.
LED Living Technology's CEO, Oliver Szeto explains:
"LED and fluorescent technologies require different approaches. While the tube shape is required by fluorescents to contain the reactions inside, LEDs are only inhibited by it. It's time to Think Outside The Tube™."
The tube-free concept behind the Claris Kit centers around two of LED Living's patent-pending technologies: Rapid Theramafuse Technology and Isotropic Diffusion.
Rapid Thermafuse Technology allows the system to utilize existing troffer housings to effectively thermally manage the LEDs.
"Recycling the housing as a heat sink with Rapid Thermafuse Technology is a big part of why the kit is so successful", explains Jasmin Molina, Director of Sales, "With effective thermal management, we can drive the LEDs at their optimal drive current, allowing for maximum light output and efficiency, and ensuring that the LEDs will last the full breadth of their lifetime. More importantly, this means they will meet or exceed the light output of T8 and T12 tubes while cutting user's energy consumption by up to 70%."
Isotropic Diffusion, a patent-pending technology designed to maximize Quality of Light™, is the second element that sets the tube-free technology of the Claris Kit apart.
Isotropic lensing serves duel purpose as part of the system. First, the diffuser sits at an ideal distance from the LEDs -- installed on top of the user's existing troffer lens. This is an improvement over the LED tube design, in which lensing sits at a minimal distance from the diodes, and promotes increased reflectance and light loss.
Second, Isotropic Diffusion serves as a beam-shaping mechanism that eliminates the unpopular and uncomfortable pinprick glare of naked LEDs.
Customers have described dramatic increase in comfort and cheeriness under Claris LED Retrofit Kit illumination, reporting a decrease in headaches, and by "an increase in alertness and a psychological boost."
Besides the obvious advantages in lifetime and energy savings: color rendering, is a great plus to LED technology (Claris Kits feature 86 CRI). Colors appear more vibrant, and at 4000K, the lighting renders similar to daylight of a sunny day.
But what most Americans want to know is, "how much does it cost?" Due to the high cost of manufacture of heat sink and accessory components, the better LED tubes offer paybacks way over the 5 year mark. But the ability to utilize existing housings as a heat sink and maintain a lean product model, the Think Outside The Tube™ design of the Claris Kit offers a price point that sits just fine with distributors and end-users alike. Depending on a building's hours of operation, and the fluorescent technology they are replacing, energy savings associated with the Claris LED Retrofit Kit can payback the cost of installation and kit in as little as 1.5 years.
"There are some situations where the building owner is only turning the lights on for 4 hours a day, 5 hours a week, where payback can stretch to 3, 4, 5 years, but most of the time, we are finding that we fall under the 3 year mark," Adam Gernerd, National Sales Manager.
Setting the Claris Kit apart is its modular design element - engineered to fit the widest possible breadth of applications throughout a facility. The lean product model makes it adaptable to a variety of housings including 2'x2', 2'x4', 1'x4', and 1'x6', all while maintaining the UL rating of the housing in which its installed (UL1598C, UL8750).
With an average payback of 3 years or less, 86 CRI, unmatched performance, controllability, and the flexibility to retrofit a wide array of troffer housings, this retrofit kit design is geared to revolutionize the way we think about fluorescent tube replacements.
"The Claris Kit delivered as promised and everyone is happy about the switch -- the building tenants, maintenance crew, manager etc. The new lighting made a significant improvement in our lighting quality, was easy to install, and fit our needs in several applications throughout our facility. Our light levels have increased while our energy consumption has gone from 72 Watts per fixture in many places to 34. Also, many of our existing fixtures are installed in hard-to-reach places and we are very pleased that there will be no need for replacing lamps and ballasts. The turnover is helping us achieve our goal to become an Energy Star efficient building." - Kenneth Cooke, Chief Engineer, Behringer Harvard, United Plaza, Philadelphia, PA.
Now is the time for a technology like this to hit the market, with legislation that outlaws the manufacture of T12 and some of the less efficient T8s coming into effect as well as state-by-state utility incentives for LED conversion popping up all across the country. With roughly the same time and simplicity of a T5 conversion, the Claris LED Retrofit Kit will be a premier LED alternative that will last up to 5 times as long.
Contact
Contact: news@ledlivingtechnology.com
E-mail:news@ledlivingtechnology.com
Web Site:ledlivingtechnology.com