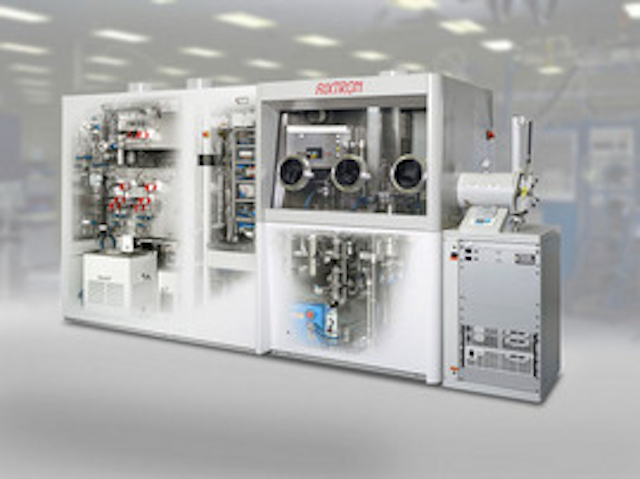 Date Announced: 28 Mar 2013
Aachen/Germany, March 28, 2013 – AIXTRON SE today announced that China's Peking University is adding to its AIXTRON equipment base with an order for a further Close Coupled Showerhead (CCS) reactor with capacity for three 2-inch (3x2") substrates in a single run. The order was made in the second quarter of 2012 with delivery scheduled for the first quarter of 2013.
One of the researchers who will be using the AIXTRON system is Professor Shen Bo. He says: "We already have an AIXTRON CCS system in use, and we are very satisfied with it. We now needed a system to improve our UV LED and laser research. The aluminium gallium
nitride (AlGaN) material growth needed for this is very challenging due to the very high temperatures of more than 1200°C required. Also AlG aN is very difficult to dope, particularly with magnesium that is used to create the p-type regions needed for hole injection."
AIXTRON's Close Coupled Showerhead (CCS) concept is an excellent tool for small scale production and R&D. Processes are easily scaleable to larger systems. The stable platform comes with excellent reliability, ease of use and reproducibility.
Founded in 1898, Peking University (PKU) was the first national comprehensive university in China. At the end of the 20th century, the Chinese government placed PKU at the top of the agenda for promoting higher education, with a view to making it a world-class university by the 21st century. Supported by the government, Peking University has made great progress
in cross-disciplinary programming, talent nurturing and scientific research.
For further information on AIXTRON (FSE: AIXA, ISIN DE000A0WMPJ6 / DE000A1TNVU3; NASDAQ: AIXG,
ISIN US0096061041) please consult our website at: www.aixtron.com.
Contact
Kaiserstraße 98 52134 Herzogenrath Germany +49 241 8909 0
E-mail:info@aixtron.com
Web Site:www.aixtron.com