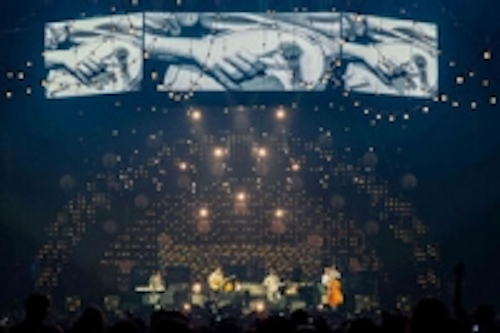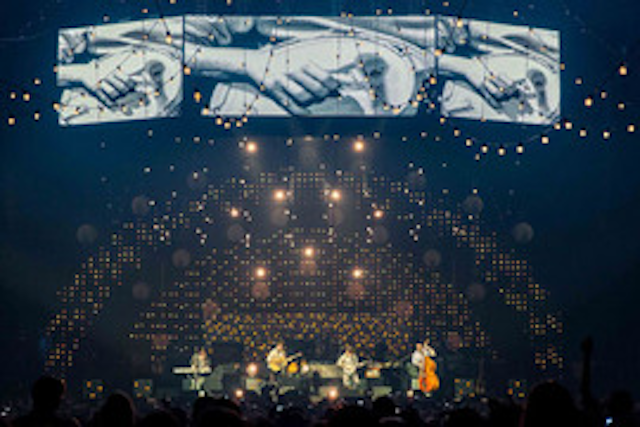 Date Announced: 27 Mar 2013
Following their successful UK arena tour in Fall/Winter 2012, Grammy Award-winning artists Mumford & Sons headed to the United States for a short East Coast tour to support their latest Billboard-topping album, Babel.
The 'Tour Of Two Halves' world tour features over 2,500 of XL Video's new FX-200 LED spheres together with Pixled F-11 LED screens, HD cameras/PPU and crew.
The band's Lighting and Visuals Designer, Ed Warren, from Next Level Lights, specified the FX-200 for their ability to product high-impact low-res effects, having used a number of different tungsten lightsources over and around the stage on their last few tours.
XL Video had supplied the FX-200s on the UK tour and XL's US music operation, led by SVP of Concert Touring, Mark Haney, took on provision of the matched equipment for the 7 shows in Boston, Fairfax VA, New York and Camden NJ.
"Another great example of doing turn-key XL Video systems between Europe and America, and how it can be very advantageous to clients and their bottom line," commented Mark Haney. "It was a pleasure, as always, to collaborate with show designer Rob Sinclair and Steve Gordon, the band's PM. Steve was a big help as we got this one started."
The FX-200 spheres were mounted on different length steels and hung from 2 independent trusses creating a curved layered effect to the set. Content for the spheres was fed via XL's Catalyst 5.1 media servers.
Flown above the stage 3 LED screens constructed from XL Video's lightweight, modular F-11 product displayed a combination of playback images and IMAG shots fed from XL's HD camera system.
XL Video's Mark Haney commented: "We deployed one of our Ross Vision 2 HD flightpacks on Mumford, along with Sony 1500 camera chains, and HD POVs. Charlie Woods, Mumford's director, was great to work with in that he comes from the Mobile Television world and has a very common sense approach. He cut a 4 M/E show, with media server effects downline of the desk. Very cool stuff. I also must mention the contributions of Dave Hyslop from our Los Angeles office, Bob Larkin, and tour engineer Jon Huntington. They were invaluable."
Mumford & Sons live shows have continued to grow in reputation following the release of their 'Road To Red Rocks' Live DVD. The band continue their world tour in Europe before returning to the USA in the Summer for headlining slots at their own 'Gentlemen Of The Road' Stopovers – a handful of outdoor festivals in specially selected small towns.
For more info on XL Video, visit: www.xlvideo.com
For more info on Mumford & Sons: www.mumfordandsons.com
Photos: Rachel Wright
Contact
For more press info on XL Video, please contact Louise Stickland on +44 (0)1865 202679 or +44 (0)7831 329888 or Email 'louise@loosplat.com'. To contact XL Video UK direct, call +44 (0)1442 849400 or check www.xlvideo.com
E-mail:louise@loosplat.com
Web Site:www.xlvideo.com