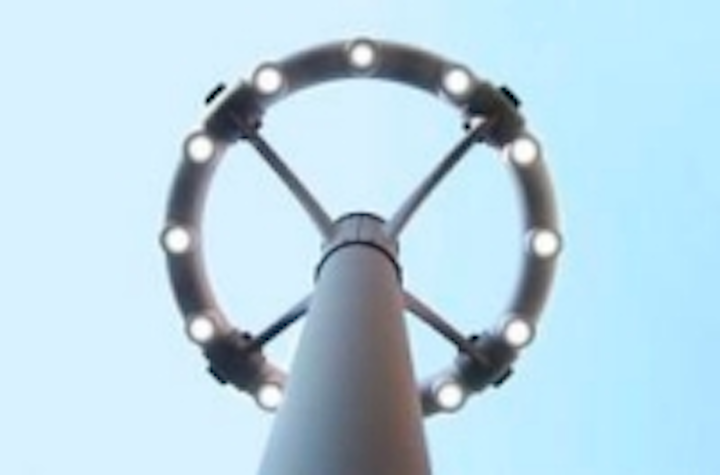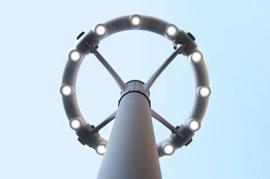 Date Announced: 01 Mar 2013
Eleek, a sustainable lighting design and manufacturing company based in Portland, Oregon is the designer of a new pedestrian-scale LED streetlight called Halo. Halo was one of three designs to inspire the Next Generation Luminaires Outdoor Showcase judges to add an additional category of special consideration to this year's winners. The winners were announced on February 14, 2013 at the Strategies In Light conference in Santa Clara, California. Eleek, a small, independent company, shared the stage with the best known big lighting companies like Lithonia, GE, Cooper and Cree.
Eleek's "HALO", a new 4800 lumen pedestrian street lamp (also available up to 24,000 lumens), was distinguished as "incorporating particularly innovative form factors…offering high design and function" inciting comments from the panel such as "excellent concept", "very cool", and "a highlight for me."
The Next Generation Luminaires Outdoor Showcase Competition ("NGL") was launched in 2008 to promote excellence in the design of energy-efficient LED luminaires for general illumination in commercial lighting applications. Jointly organized by the illuminating Engineering Society of America (IES), the International Association of Lighting Designers (IALD), and the U.S. Department of Energy (DOE), a panel of nine distinguished judges drawn from across the outdoor architectural lighting community evaluated the products by assessing color quality, appropriate illuminance, light distribution, glare control, aesthetic appearance and style, serviceability and replacement, value, and energy efficiency. "This is not just a beauty contest," said DOE Solid-State Lighting Program Manager Jim Brodrick. "The winners also have to perform well." In order to be entered in the competition, luminaires had to meet rigorous independent third-party testing standards.
There were 120 products from 42 manufactuers in 10 categories that met these standards and were accepted as entries. From those, 22 companies were recognized this year. Of the companies recognized, Eleek is one of only two located on the West Coast, and the only Certified B Corporation. (Certified B Corporations are committed to best practices in sustainability. They undergo an independent third-party certification of their sustainability claims every two years.)
Founded in 2000, Eleek, Inc. designs and manufactures sustainable handmade building products using recycled and recyclable materials. For more information on Eleek or its products, please call Sattie Clark at 503-314-0456 or email marketing@eleekinc.com. You can also learn more about Eleek's products and commitment to sustainability by visiting the Eleek website: www.eleekinc.com.
Contact
Eleek Incorporated 2326 N Flint Avenue Portland, OR 97227 503 232-5526
E-mail:eleekinc.com@cmail1.com